43 YC Winter 2019 Batch Companies To Watch
Published 2019-03-25
The following essay is a cross-post (copied with small edits) from one of my Twitter threads :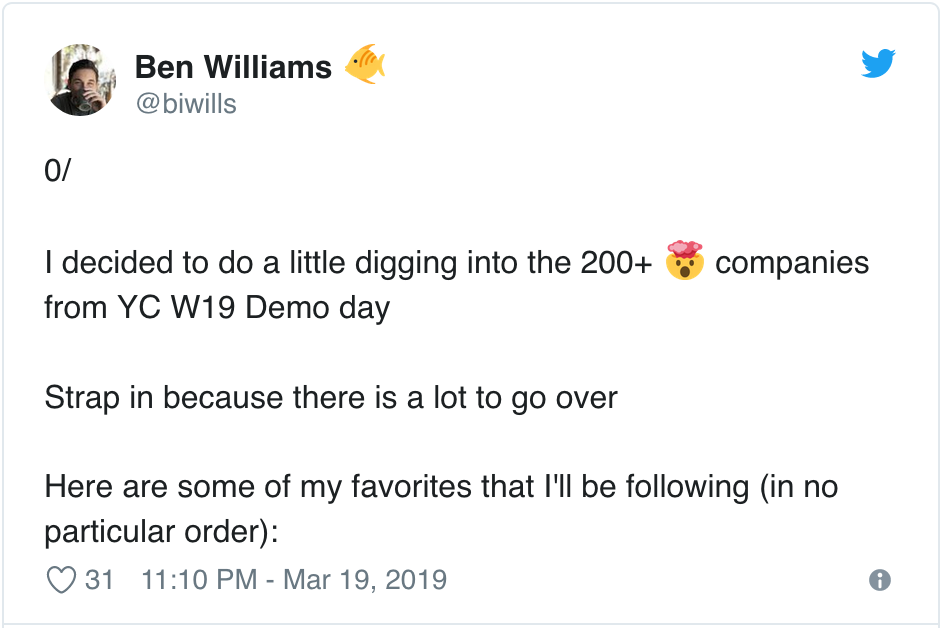 I decided to do a little digging into the 189 🤯 companies that presented at the Y Combinator W19 Demo Day.
Strap in because there is a lot to go over.
Here are some of my favorites that I'll be following (in no particular order):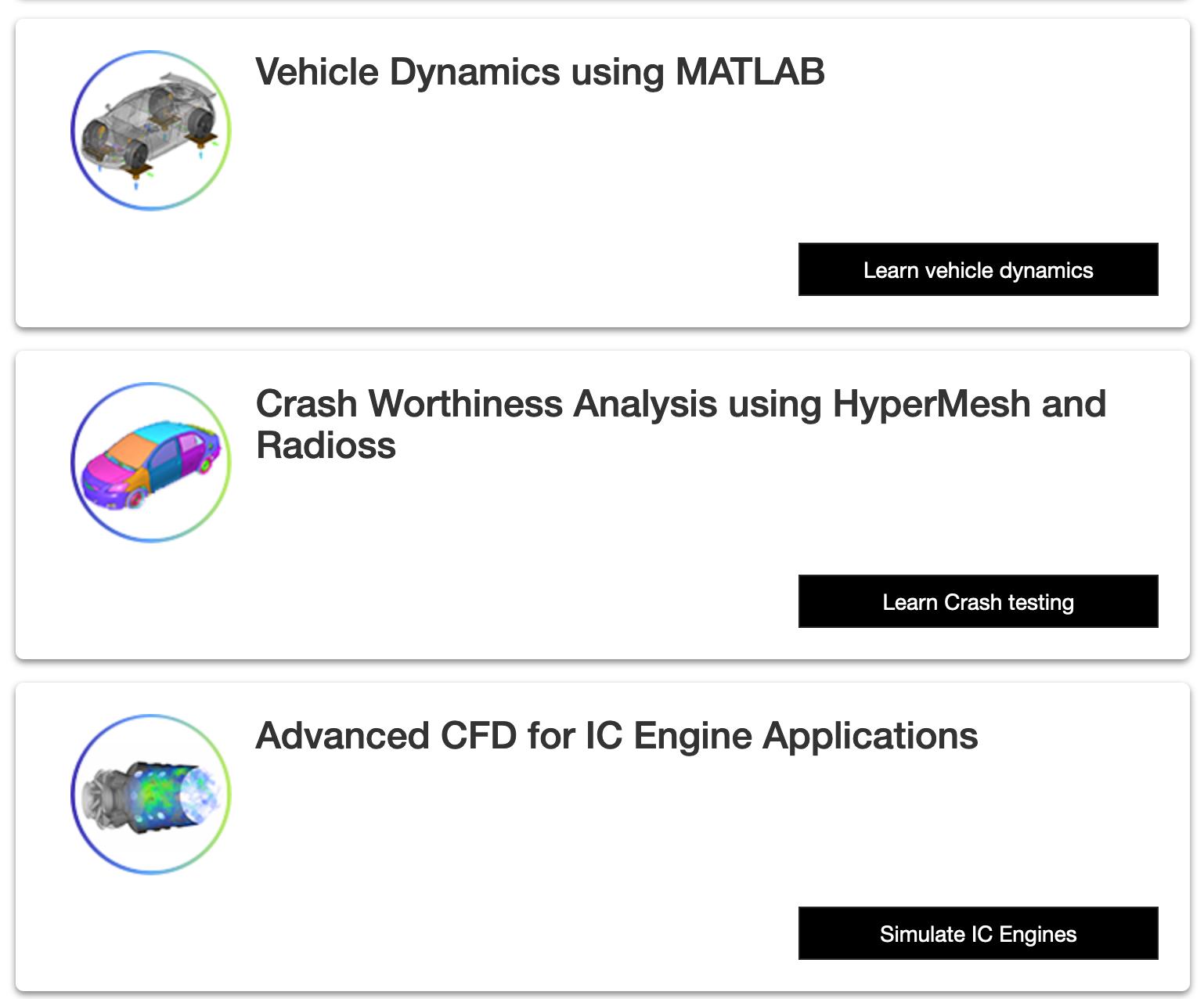 Helping mechanical engineering students with online courses, based on the idea that Universities aren't going a good job in India. Looks promising based on reviews. Interesting that they aren't doing CS based online courses like most other e-learning.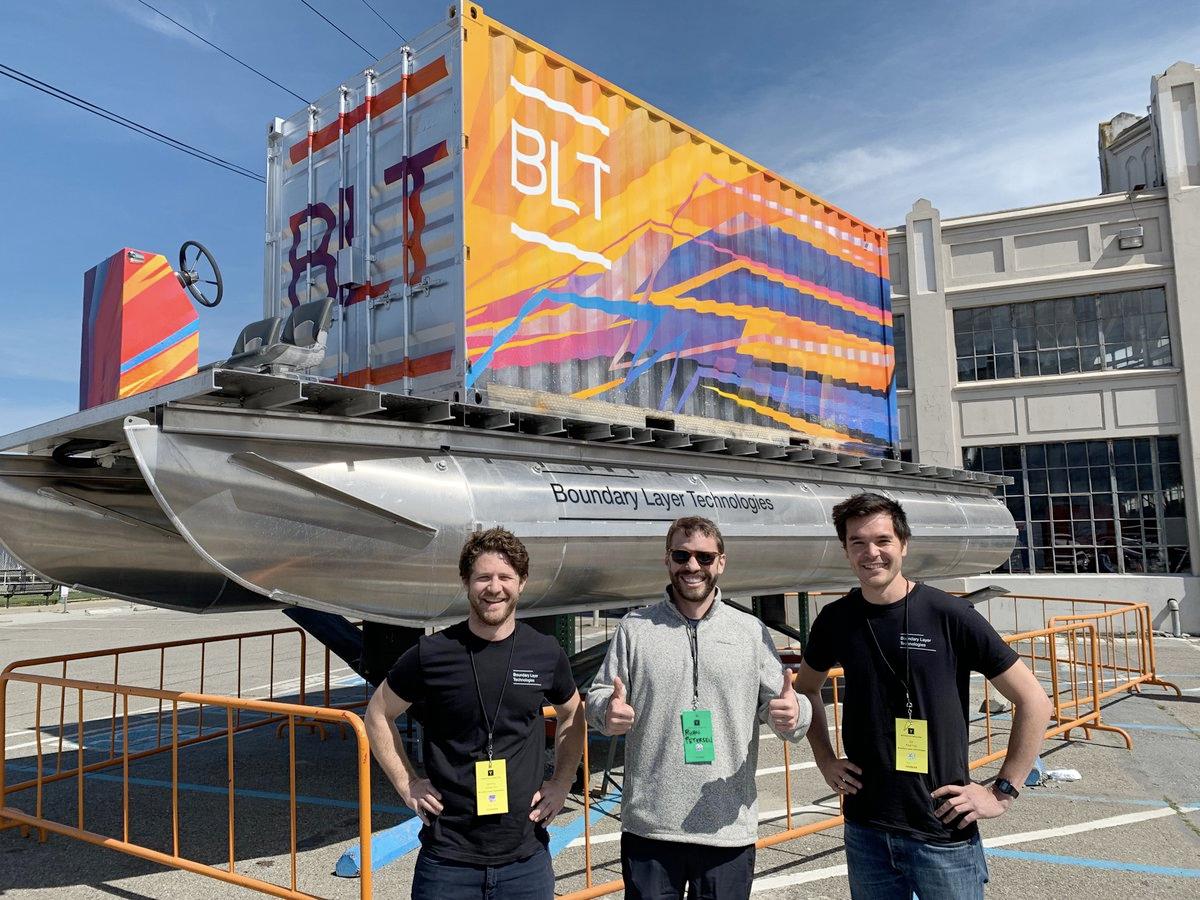 Making Hydrofoil cargo ships which should make ocean freights 3x faster, pictured is a prototype. It will be interesting to see how they scale, but giving the size of the cargo ship industry, it's very promising.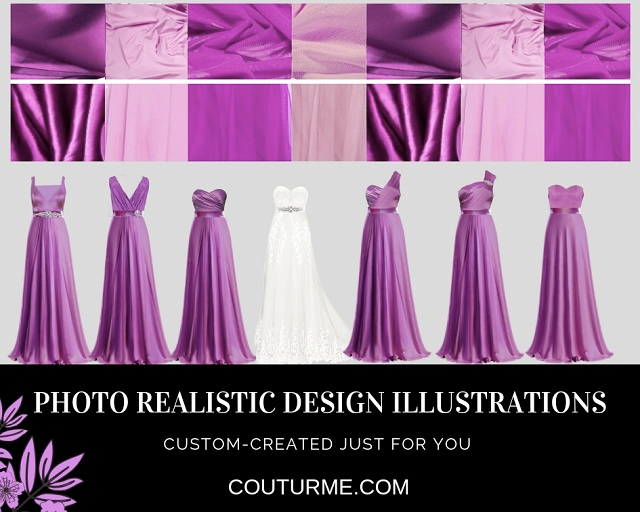 Making AI generated wedding dresses. The wedding space is huge, and most people don't want to underspend on their "once in a lifetime special day," starting at $200, it's a good price to be unique, something many desire in our hyper Instagram culture.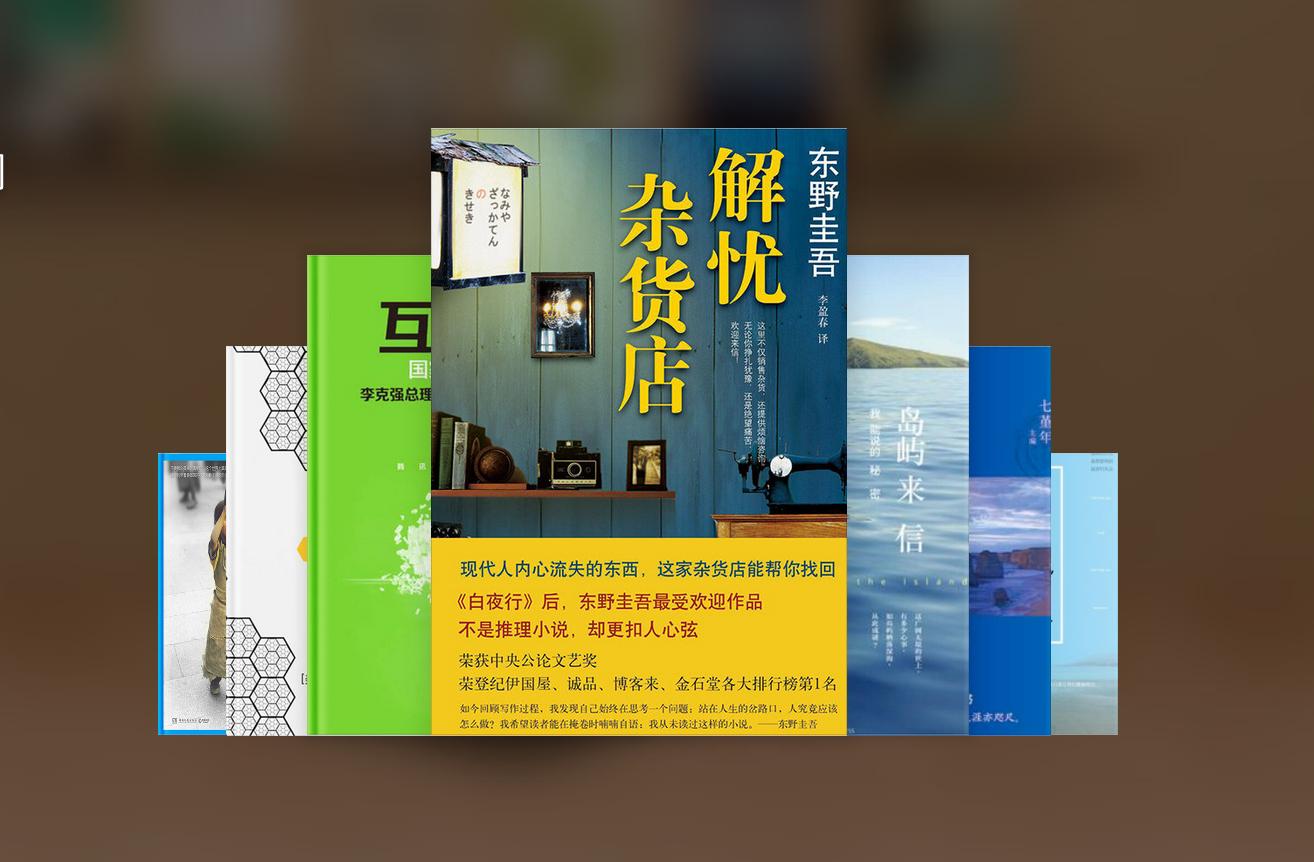 Making on-demand subscription libraries in China (where they are limited). It will be interesting to watch as they scale a utility that is typically a public good in the US.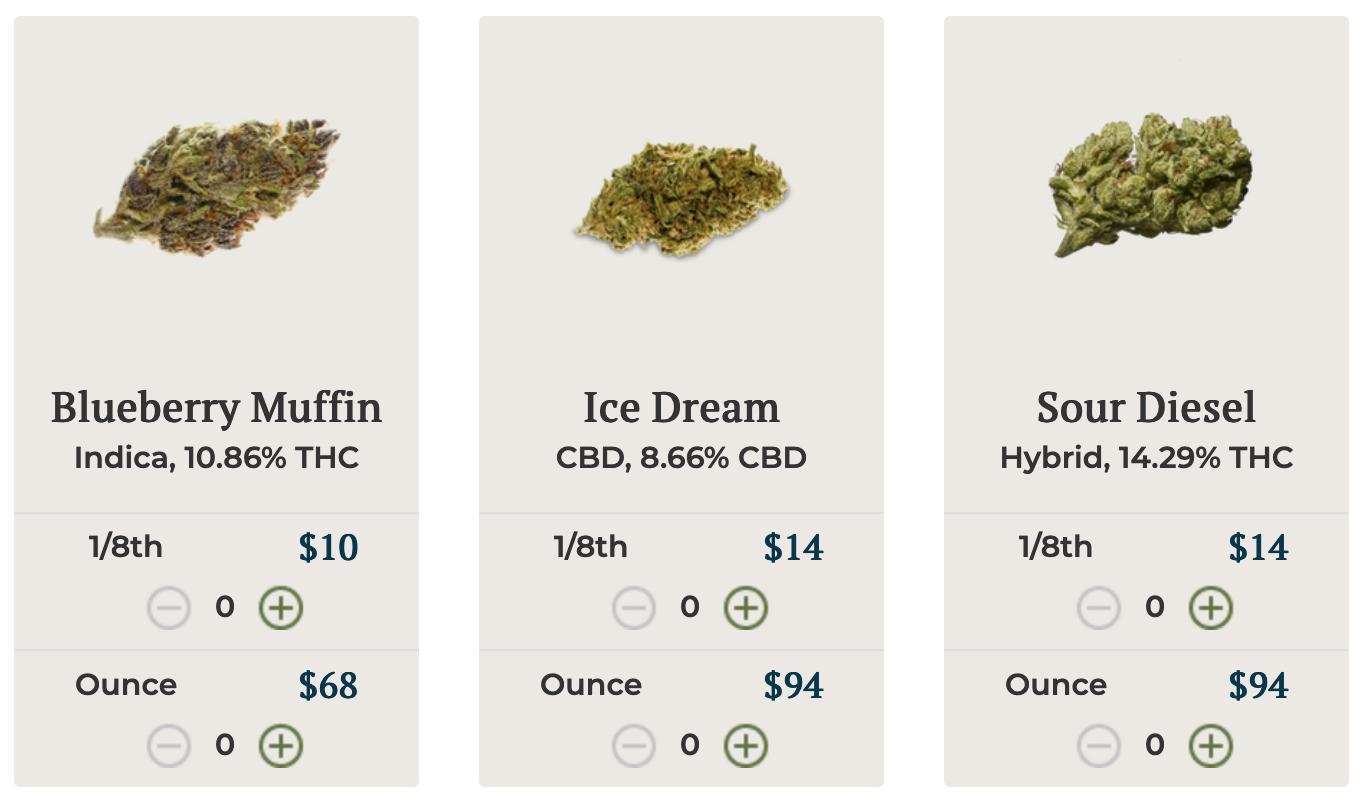 Most weed companies aren't targeting the regular day-to-day user of cannabis. Flower Co is trying to change this with bulk orders. One of the first companies I've seen the offers sales of ounces online. Will be interesting to see them scale over time.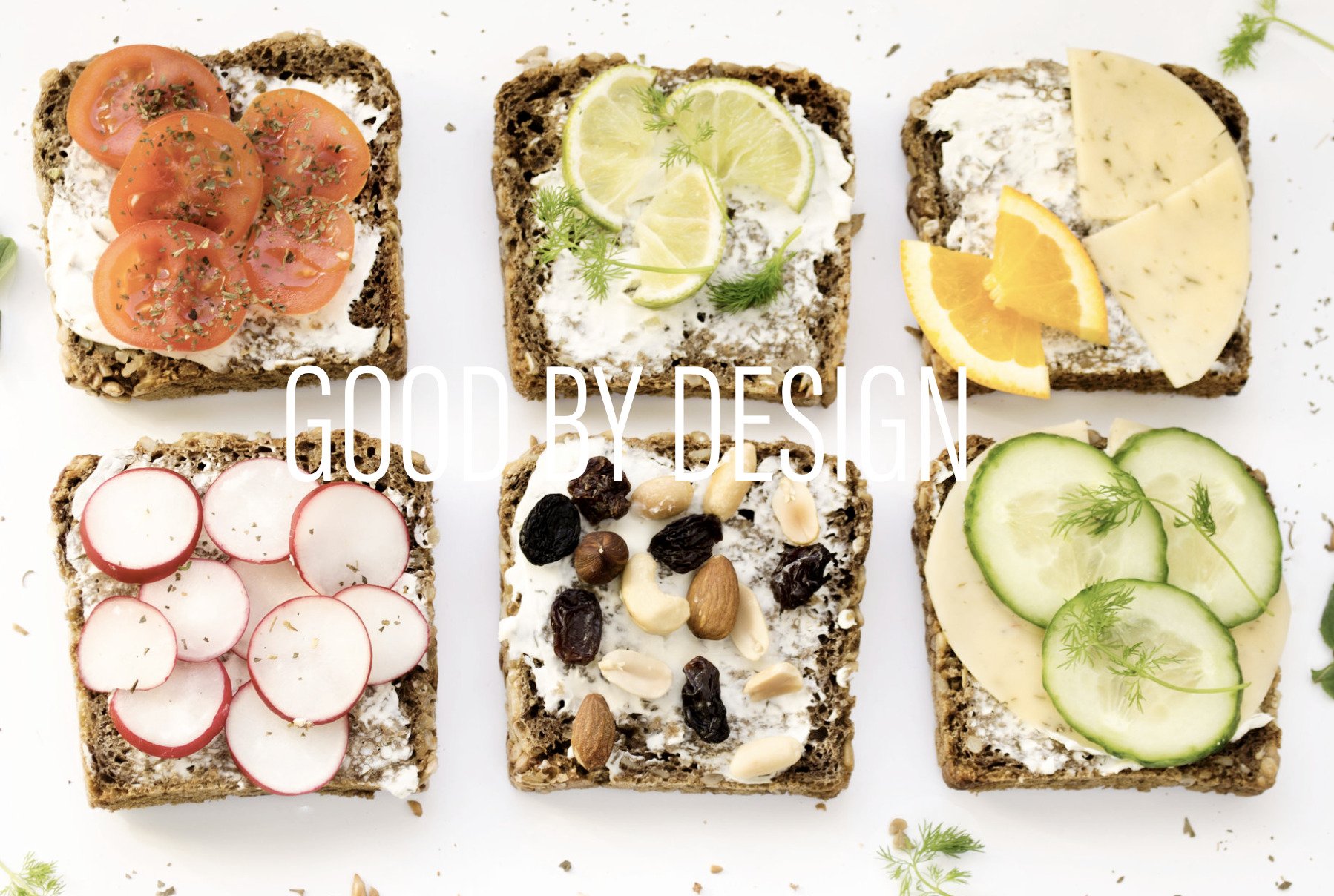 As the world population increases, the environmental cost of dairy products is increasing. Eclipse is trying to supplement the existing market by offering plant-based dairy with a taste that matches animal based. Watching alongside other non-dairy milk.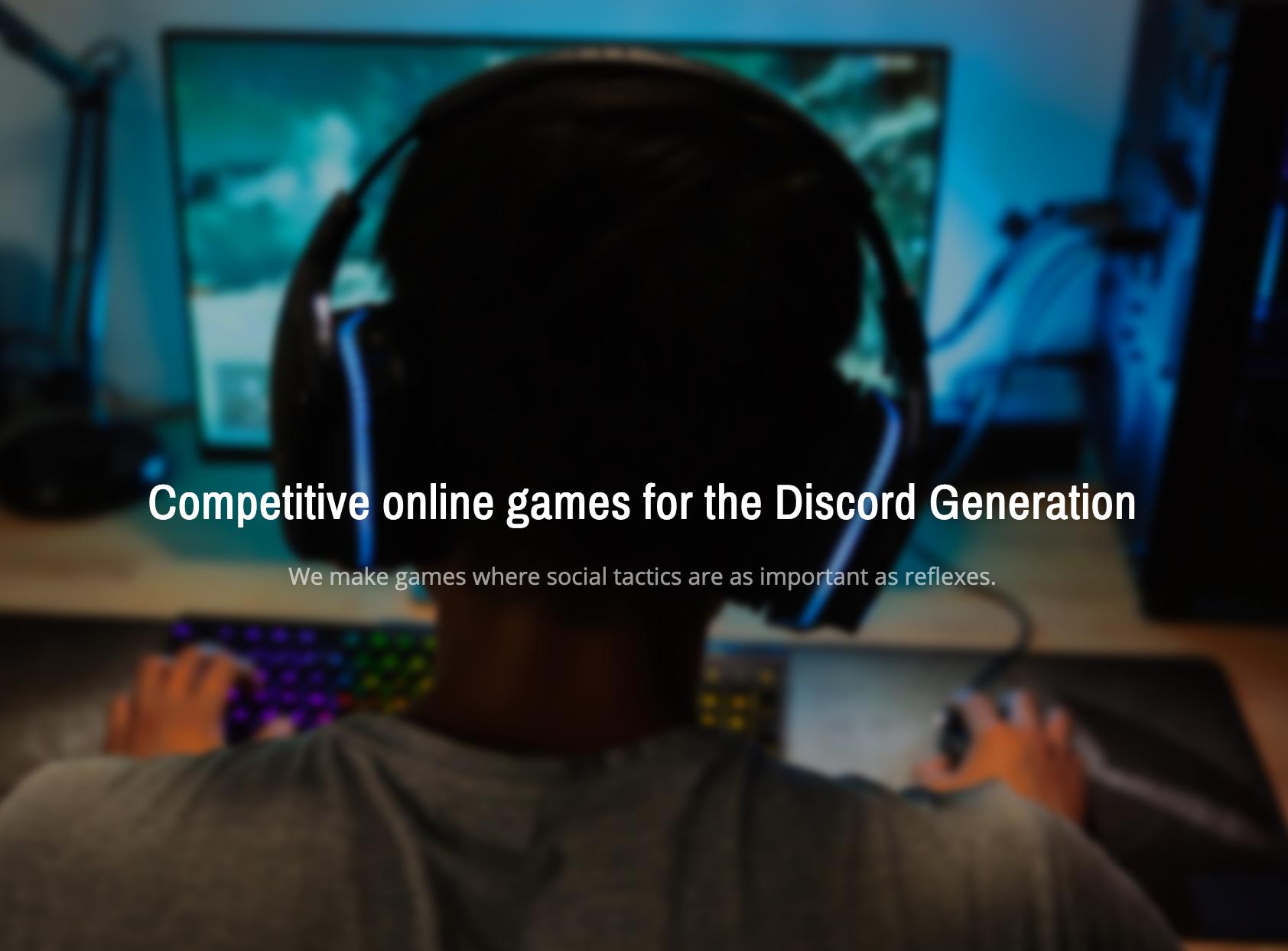 With the rise of Fortnite, it's interesting to think about if games companies, something that historically hasn't been funded with the VC model, can be successful with VC backing. Windwalk is the maker of an online multiplayer: "Enemy On Board".
Most cars have dozen of sensors motoring their health, but most people have zero. This can be problematic during pregnancy. Modoo is trying to solve that by offering a wearable to track fetal health, heart rates, & movements.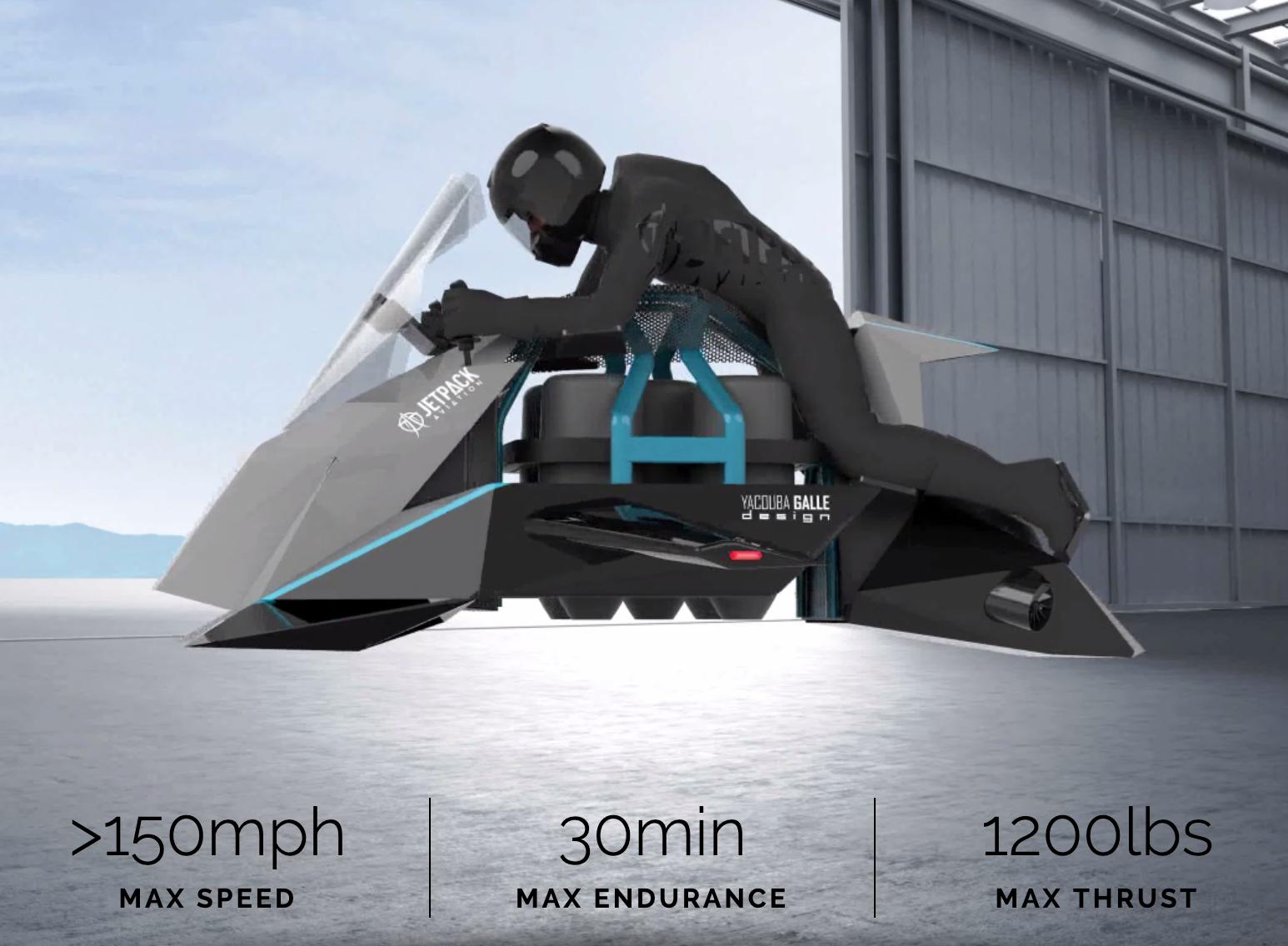 Jetpack Aviation is build flying motorcycles with both military & civilian applications. Will be interesting to see the real project since we only have CGI mocks to go off of now, but could be the start of life in SciFi book.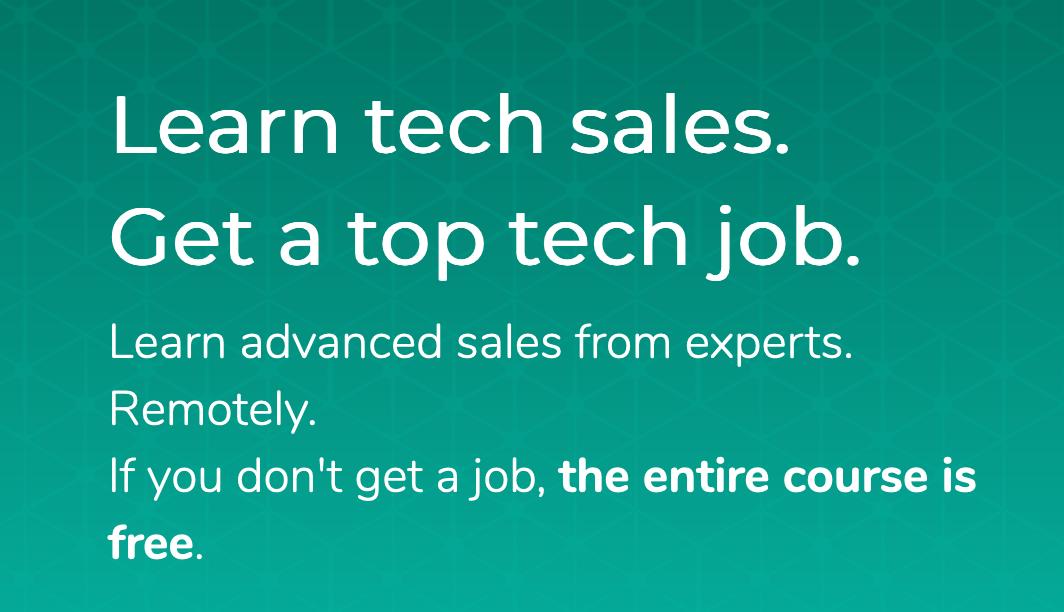 There is Lambda School for coding, and now there is FlockJay for tech sales. While not as talked about, tech sales are what drive B2B companies from startup to Unicorn. Will be interesting to see how they scale alongside the rest of the bootcamp crowd.

HTML is the language of UI, and more projects are wanting to use it on the desktop/in games. The problem is that most render engines are slow and memory-hungry. Ultralight is trying to fix that. Watching how they keep compatibility with other browsers.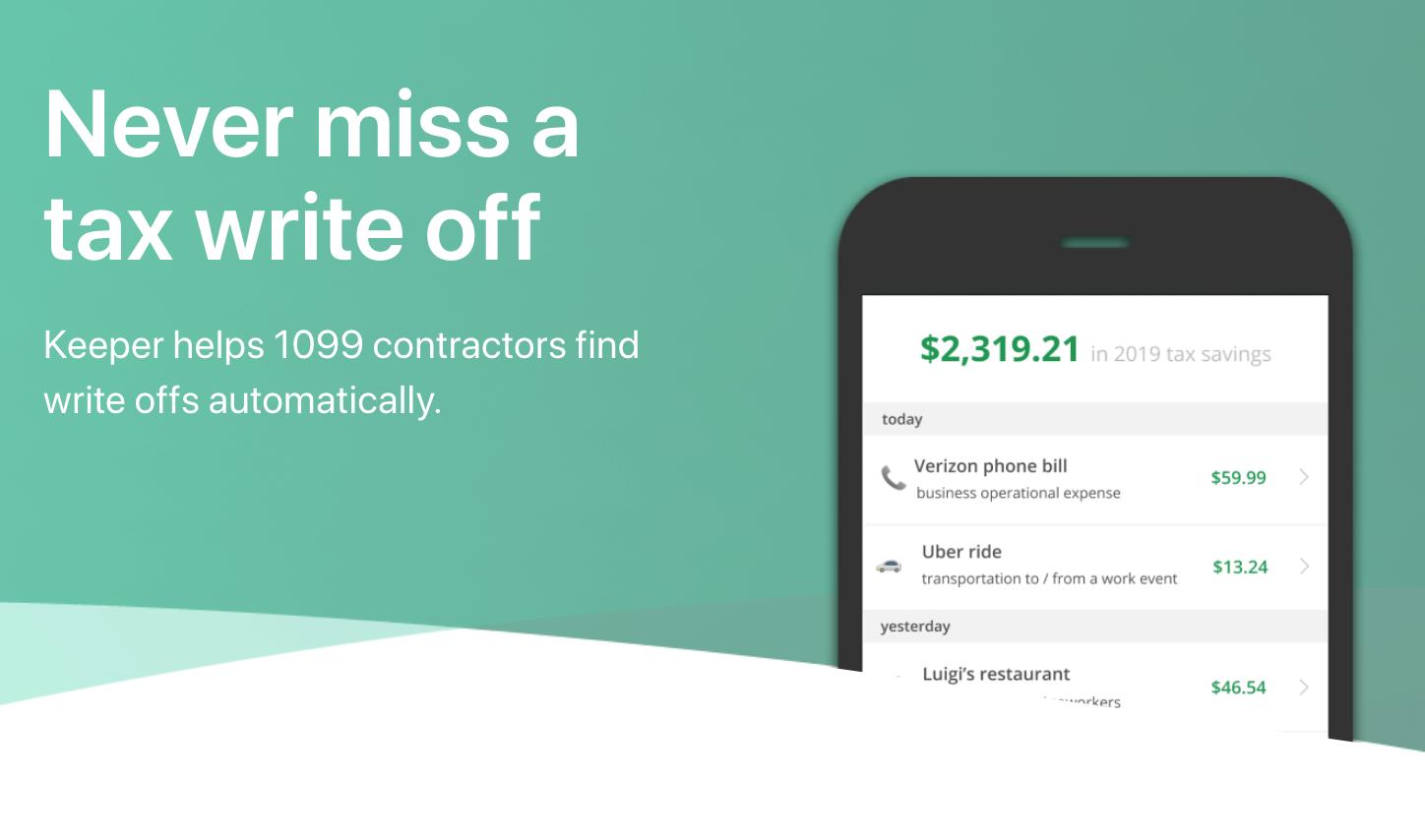 The 1099 space is growing, with more people become freelancers each year. Keeper is designed to help with the tax burdens that come with that. I've seen a lot of companies in the space (like @hykeme), so it will be interesting to follow as they all grow.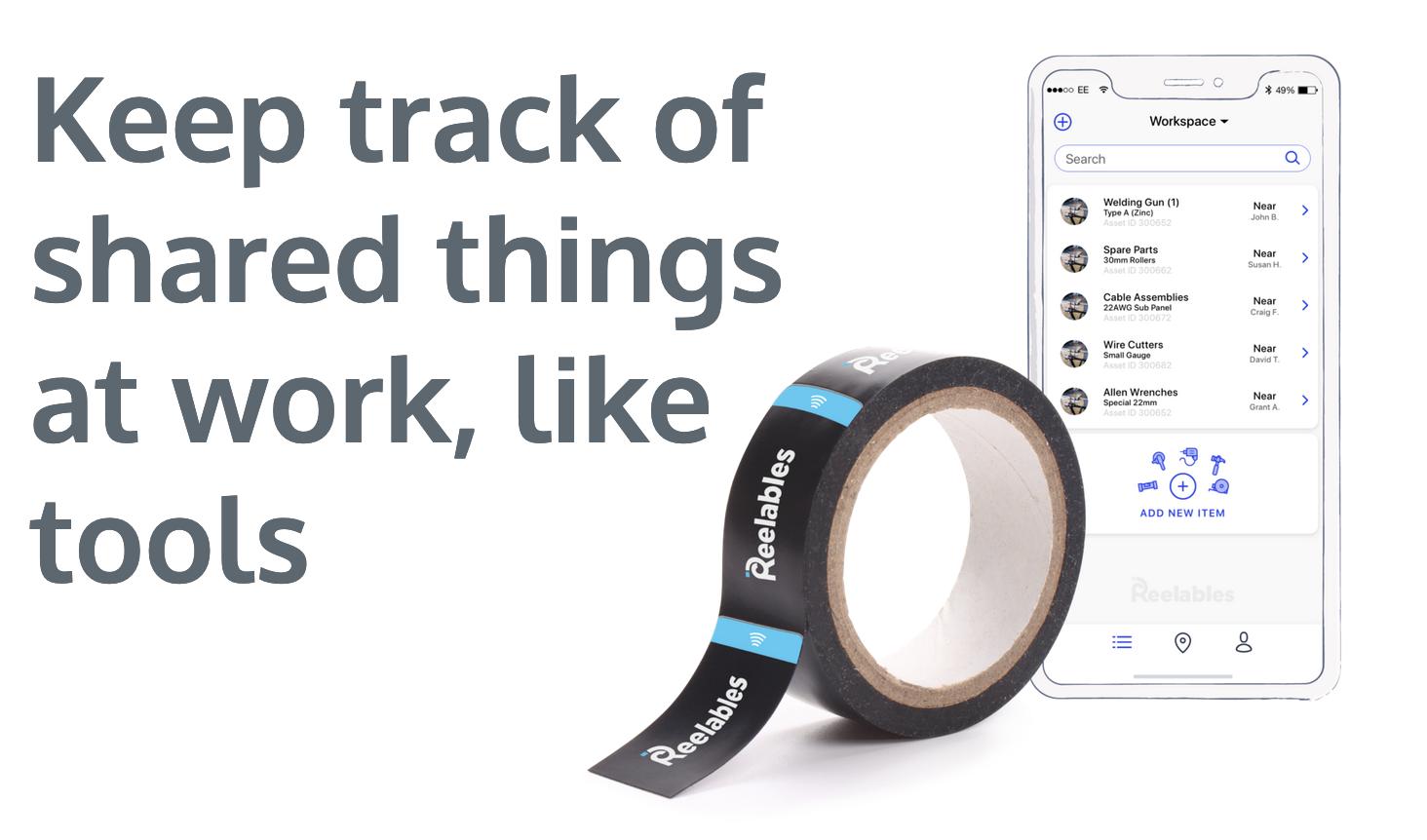 Reelables is making Bluetooth labels for tracking products. They are thin, $10, and designed to help business keep track of items. With the price point, I could see companies using these to track small items like computer chargers in meeting rooms.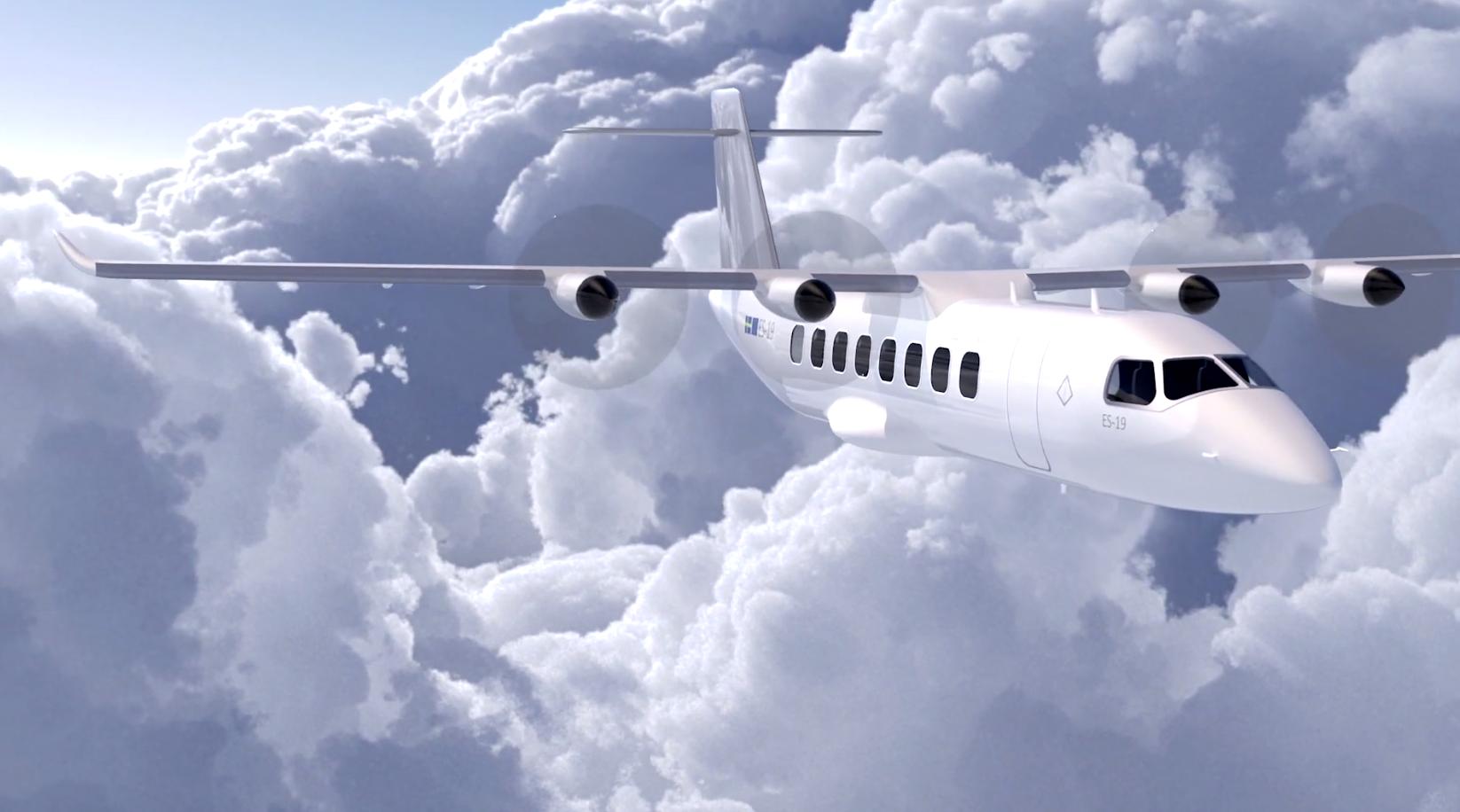 There are half a dozen companies, backed by major players, getting into the electric aircraft space. Heart is one of them. It will take years to get past regulation, but an important space to follow given environmental impact and potential profit.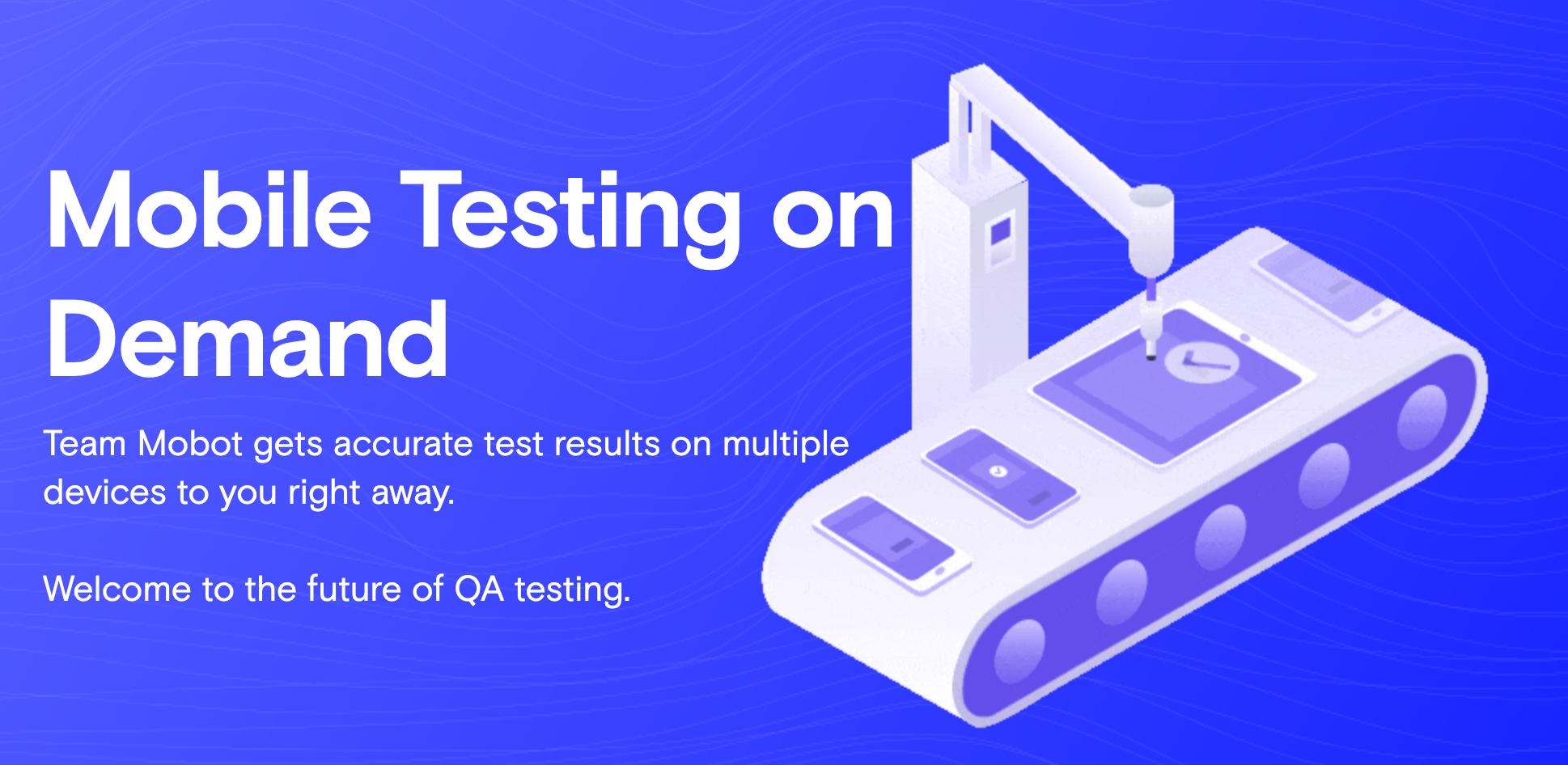 Automated UI testing has historically been a crapshoot. Team Mobot is trying to solve that with robots that test on real devices. Still has a lot to be proven but seems promising in part because they are not cutting corners with artificial VM environments.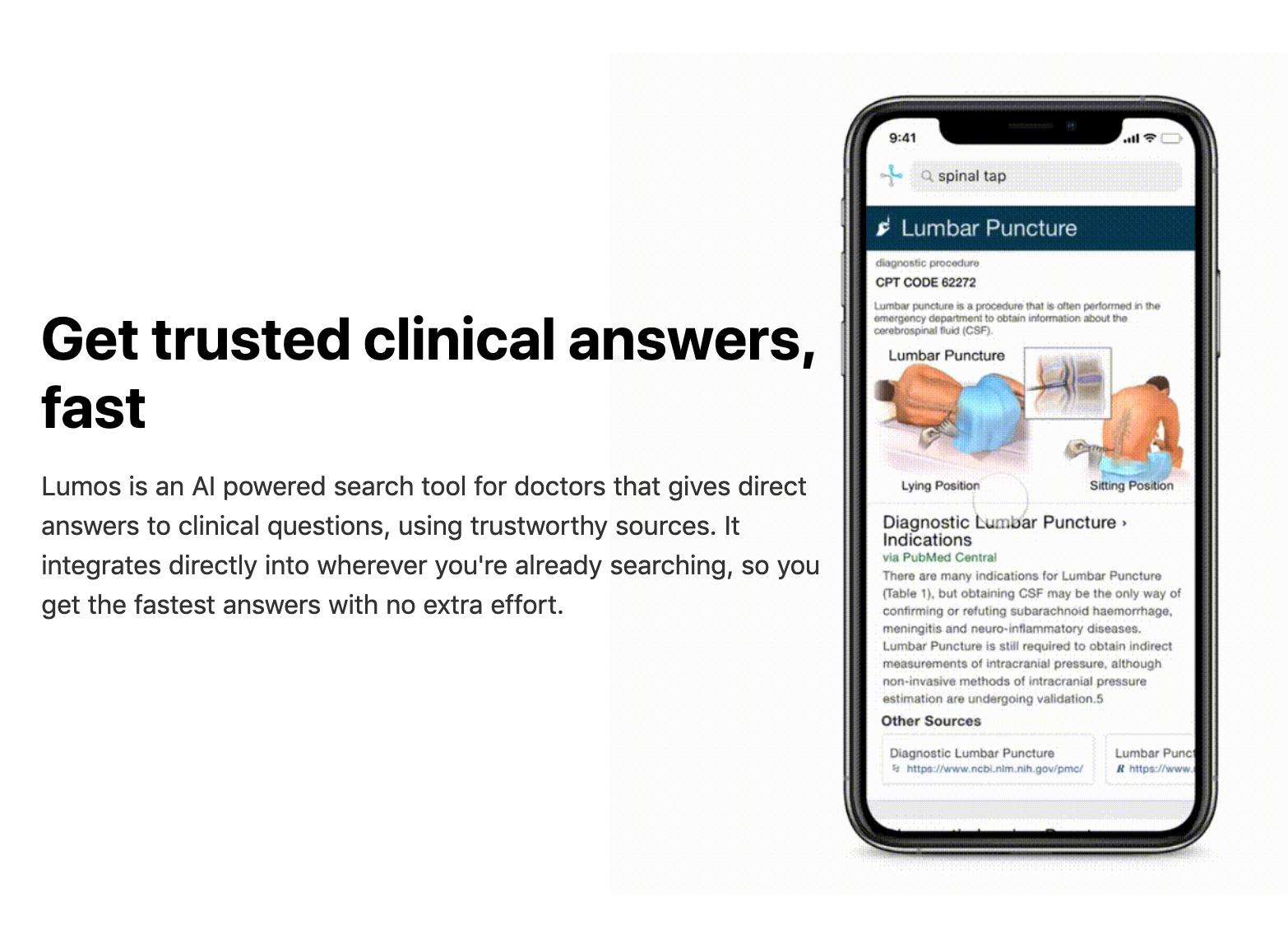 Doctors are currently using Google to search for clinical answers. The problem is it's designed to give answers to average people, not doctors. Lumos is a search engine for doctors to get better, trusted answers. i.e., a professional web MD.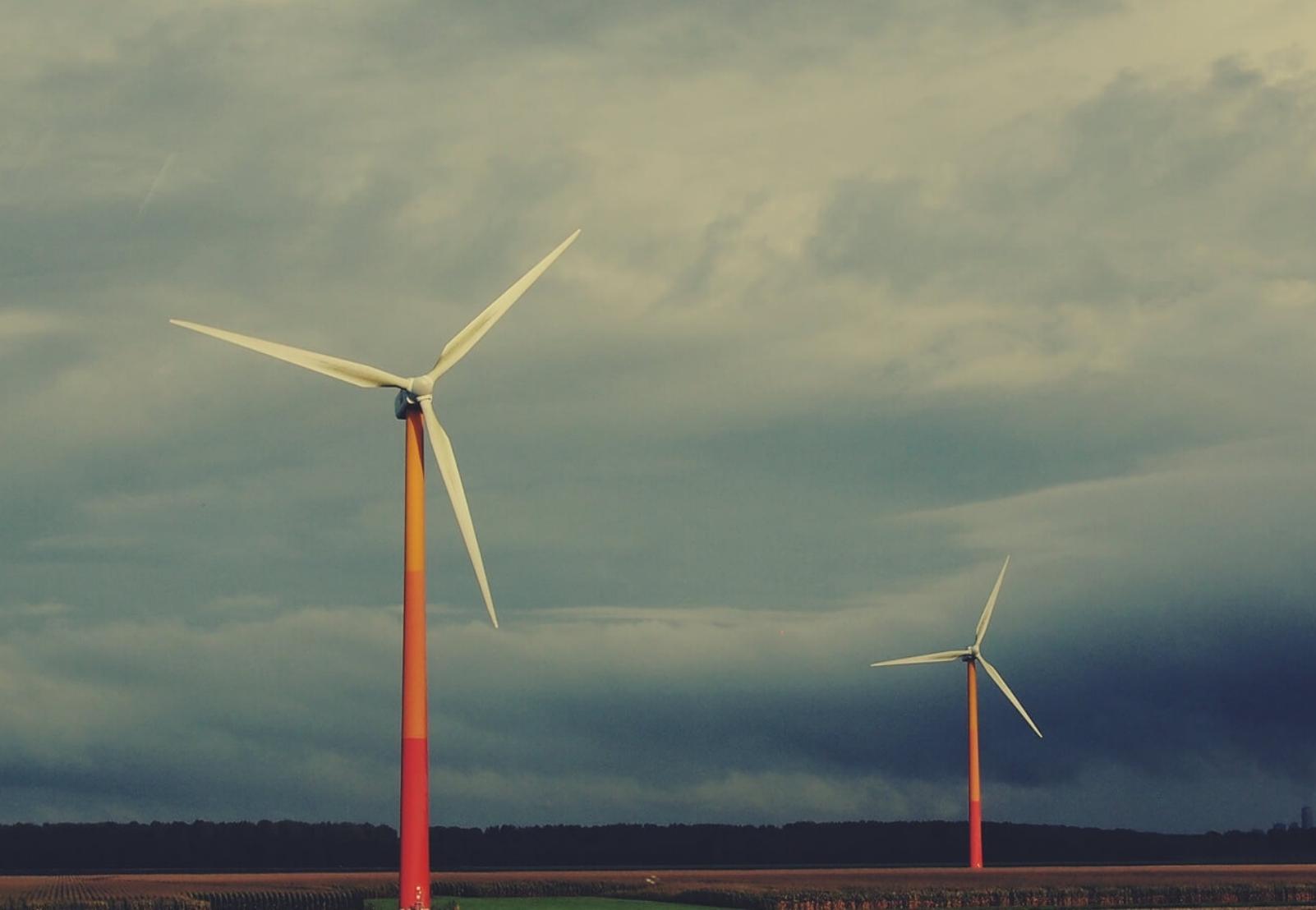 Traverse is using "country scale geospatial simulations" to determine the best places to put wind & hydropower generators and then develop the sites. Being able to both source the land and develop the site could be an extremely profitable business.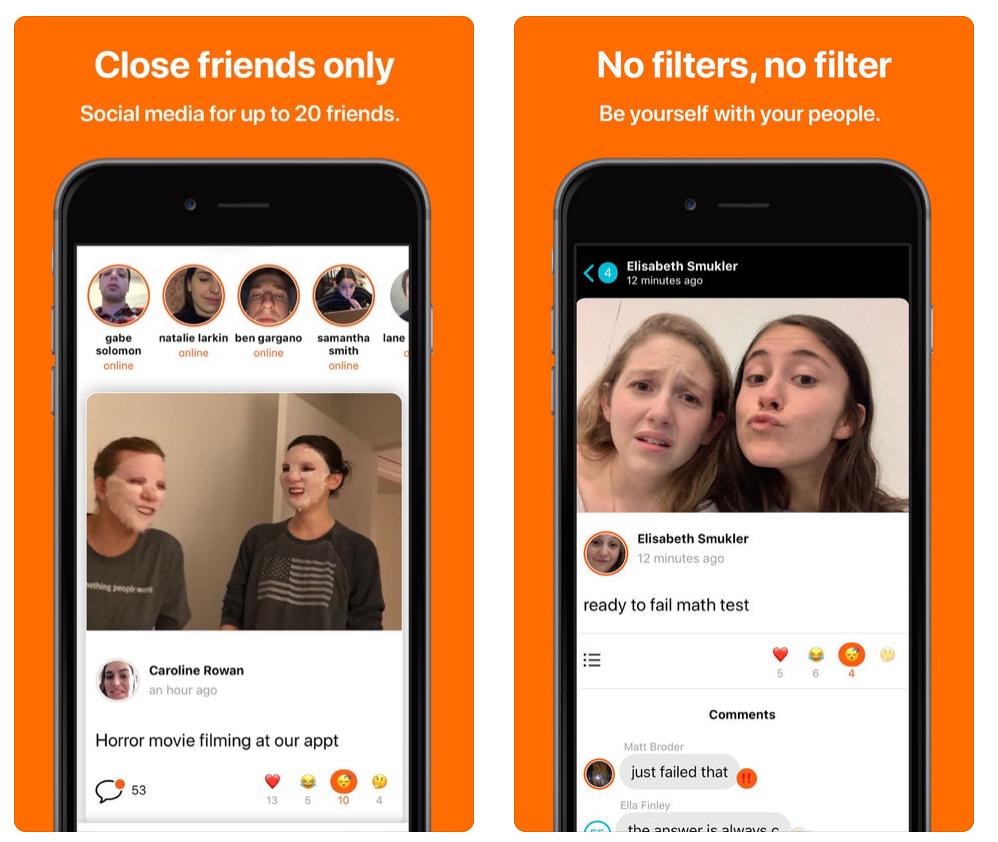 Basement is a "close friends" only social app. The social space has become impersonal, making it hard to be authentic and open. It will be interesting to see how they handle the social dynamic of denying unwanted "friends" access to your "basement".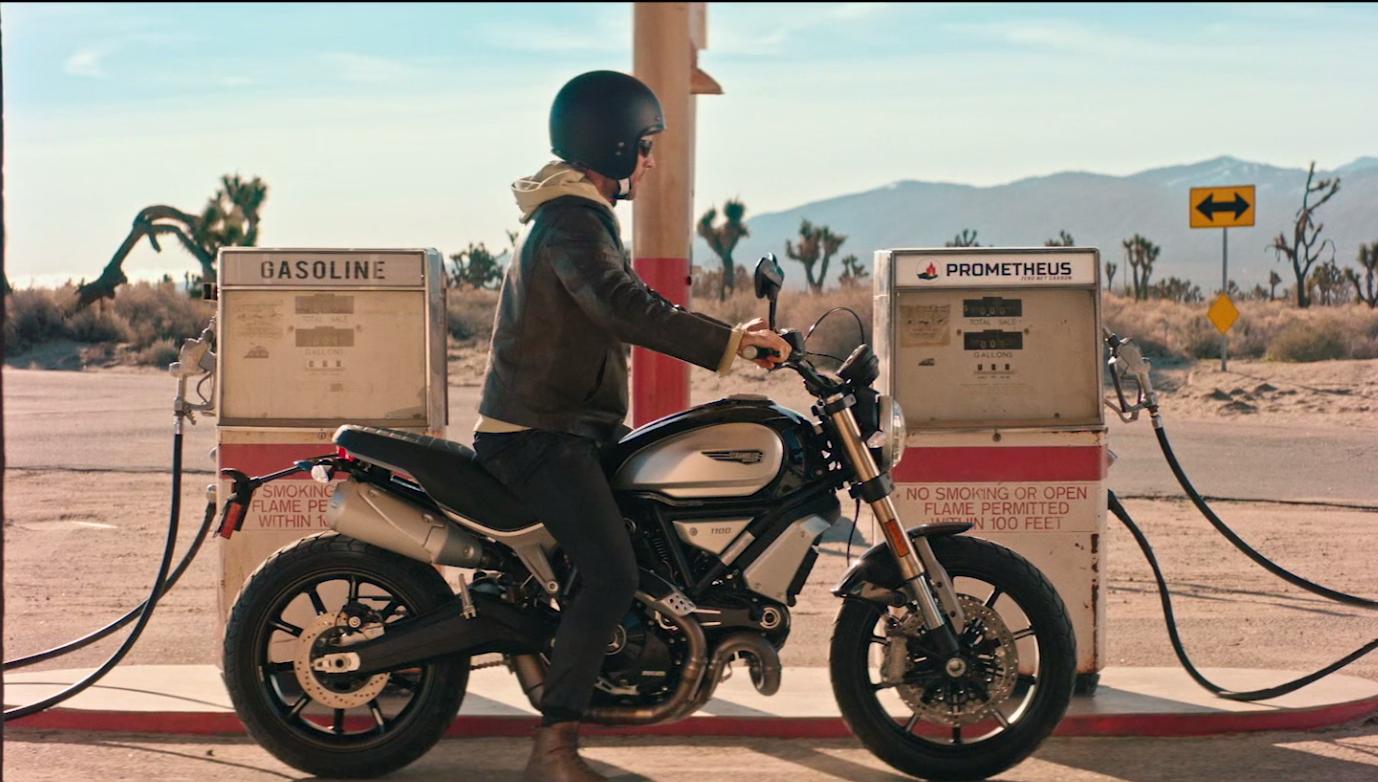 Prometheus removes CO2 from the air and turns into the first carbon-neutral gasoline. While it's still not clear the scale, the idea of carbon-neutral gas is not only exciting but could be a major force in helping control climate change.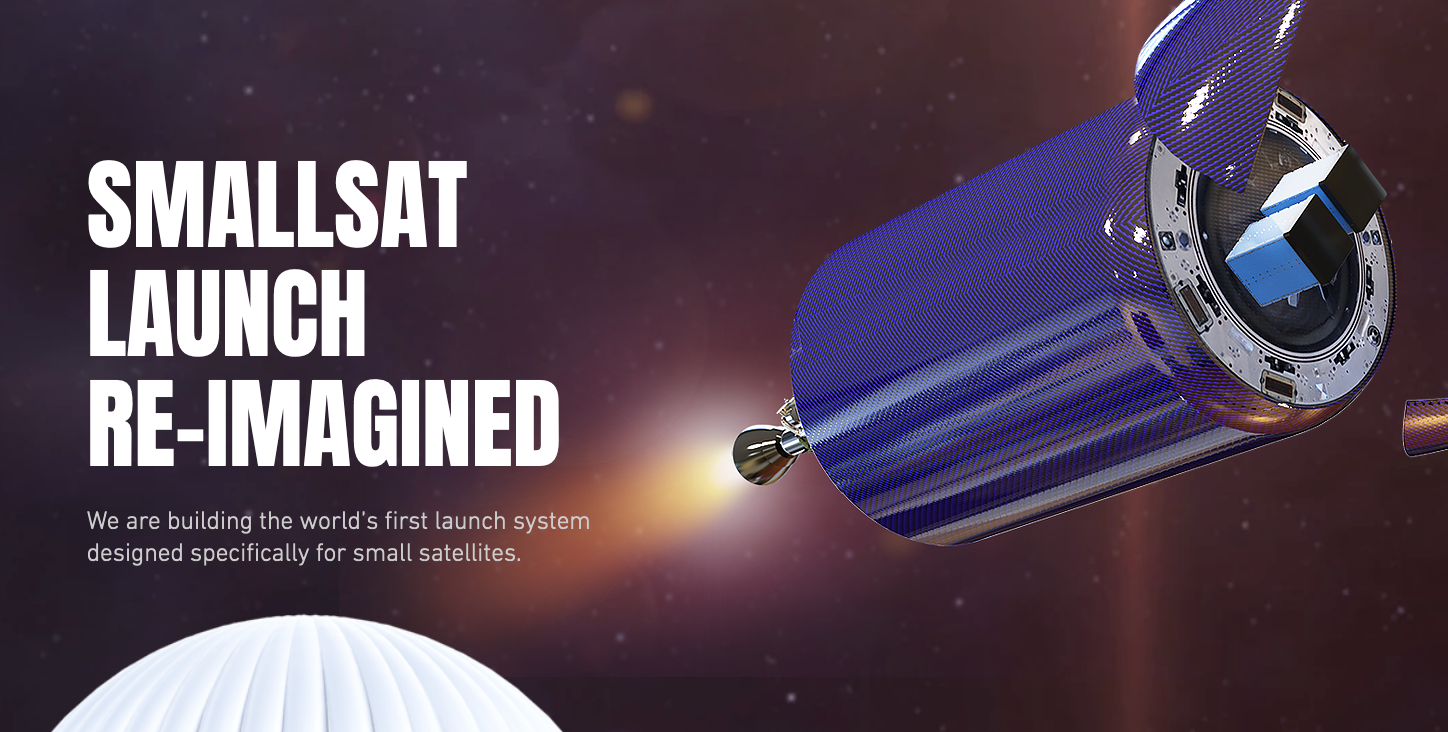 Loonify is trying to launch satellites into space from stratospheric balloons, where they can take off in near vacuum conditions. If successful, it could drastically lower both the cost & risk of launching a small satellite into space.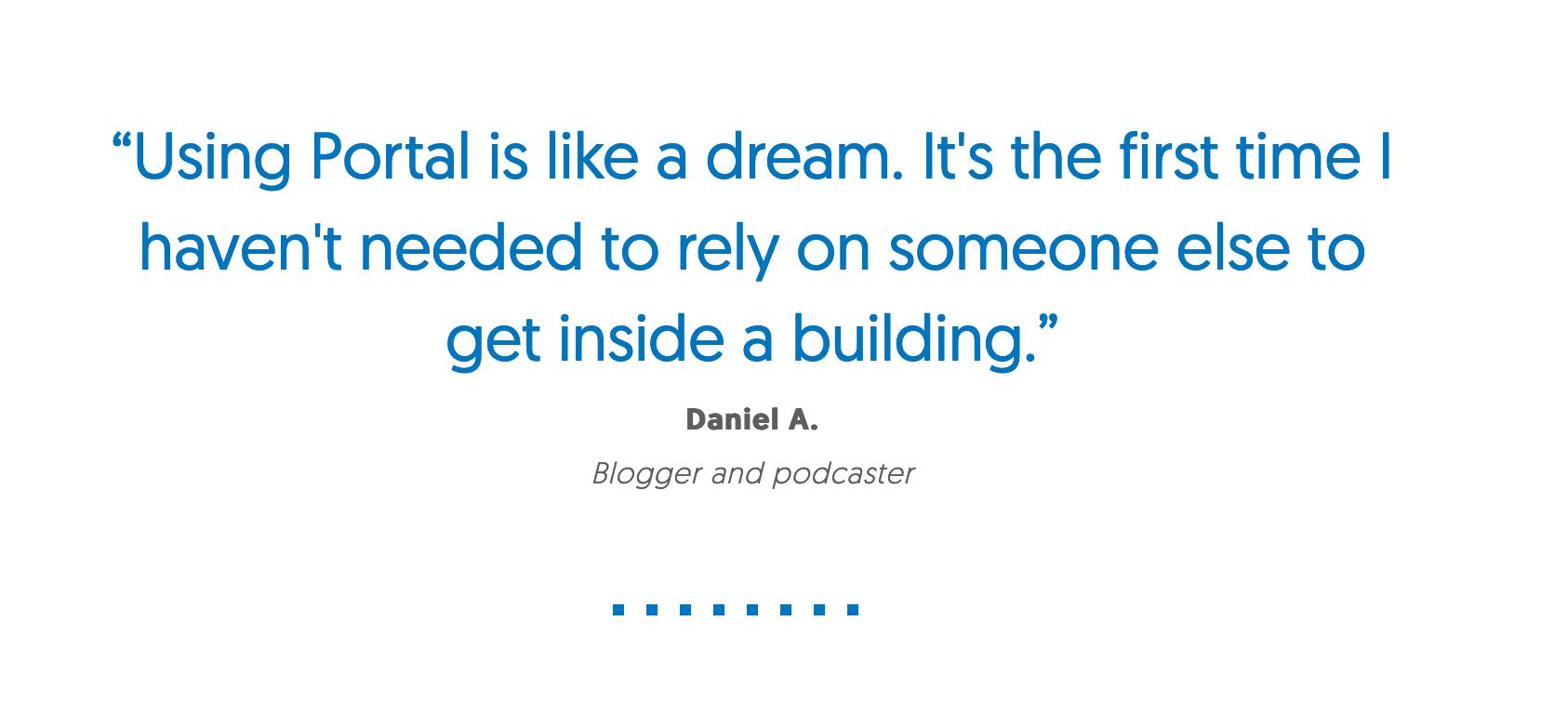 Portal is working on tech that automatically opens doors for people in wheelchairs. After watching their videos, it's clear that most handicap door buttons are hard to access. Excited to watch the company grow and make spaces accessible.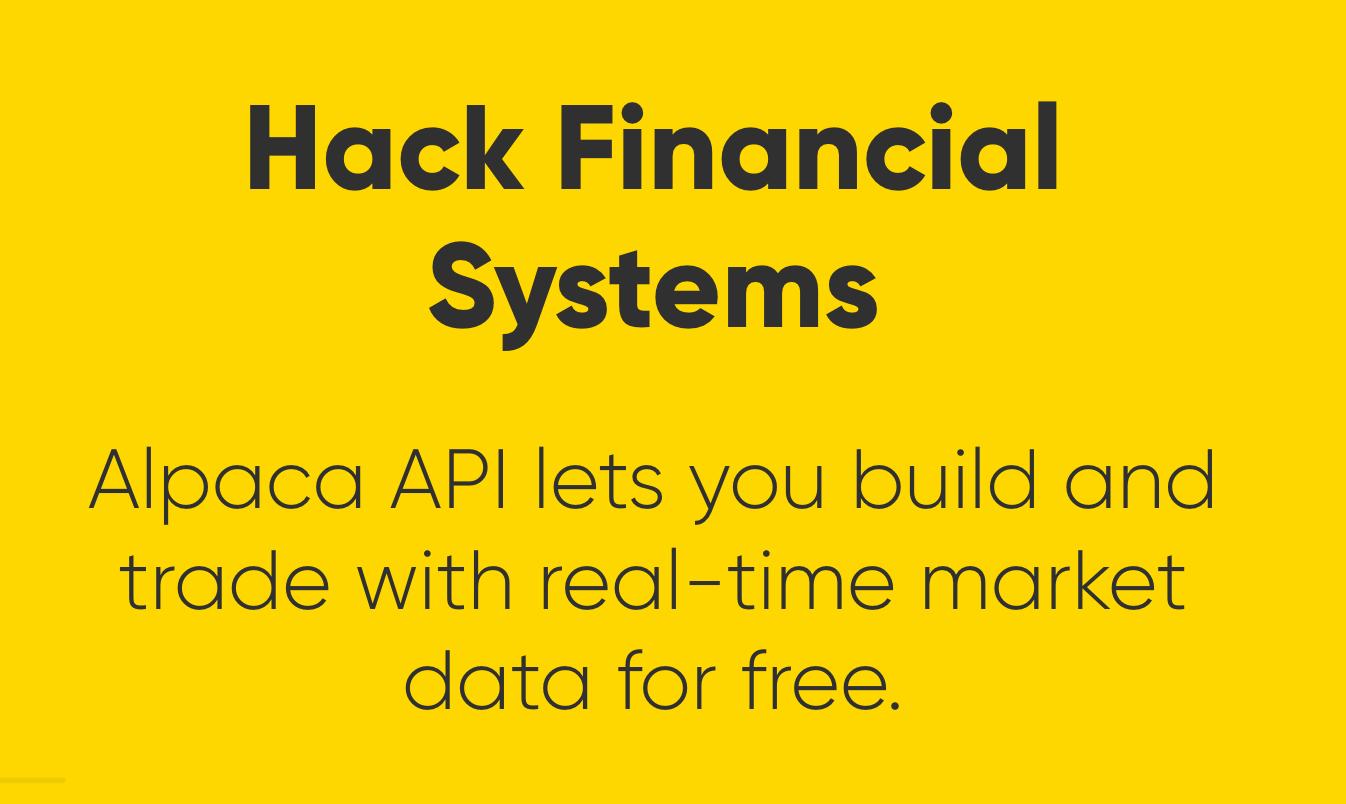 @RobinhoodApp has already changed how average people invest, but it doesn't have an API yet. Alpaca does, allowing devs to buy/sell (including shorts) from an API. I can see this drive a new wave of financial companies build on top of their platform.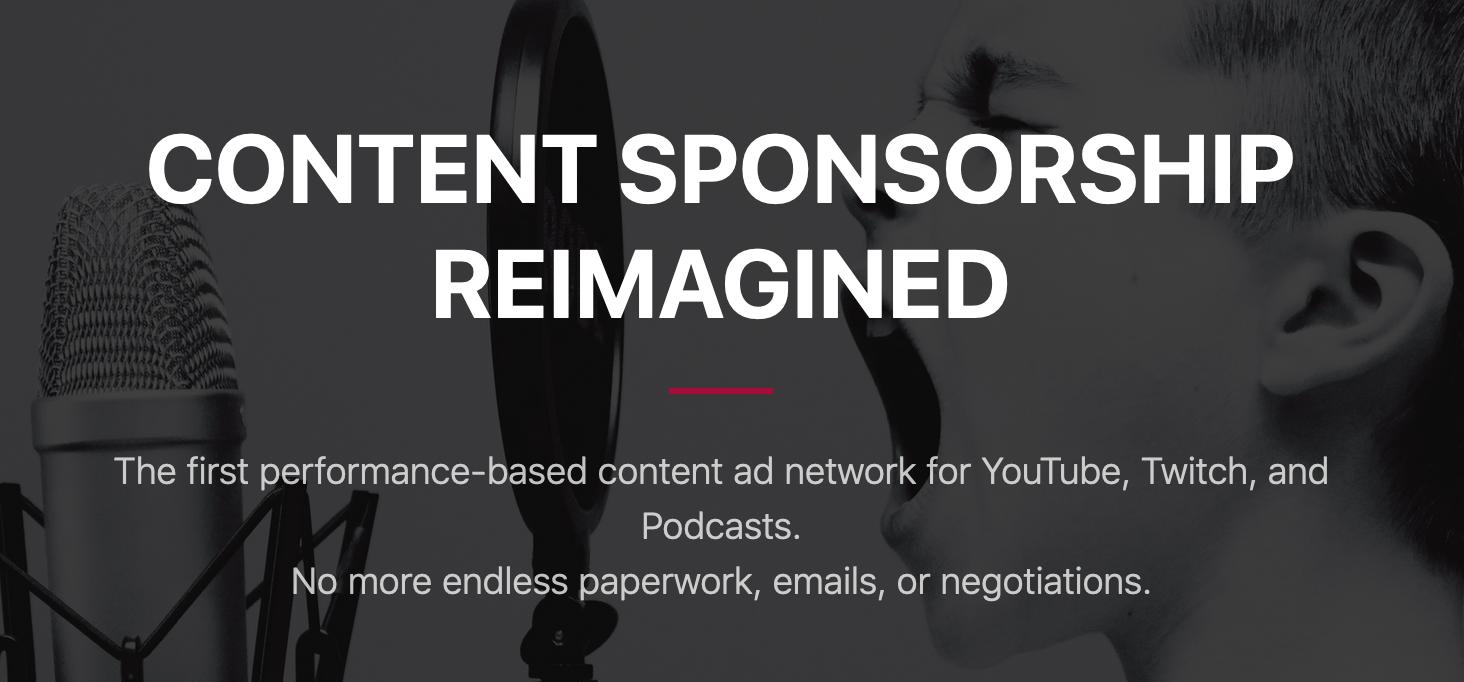 Influencer marketing deal size and terms are not standardized and require a lot of manual work for both advertisers & creators. Bearbuzz is trying to automate this. Interesting to watch knowing a few companies working in this space.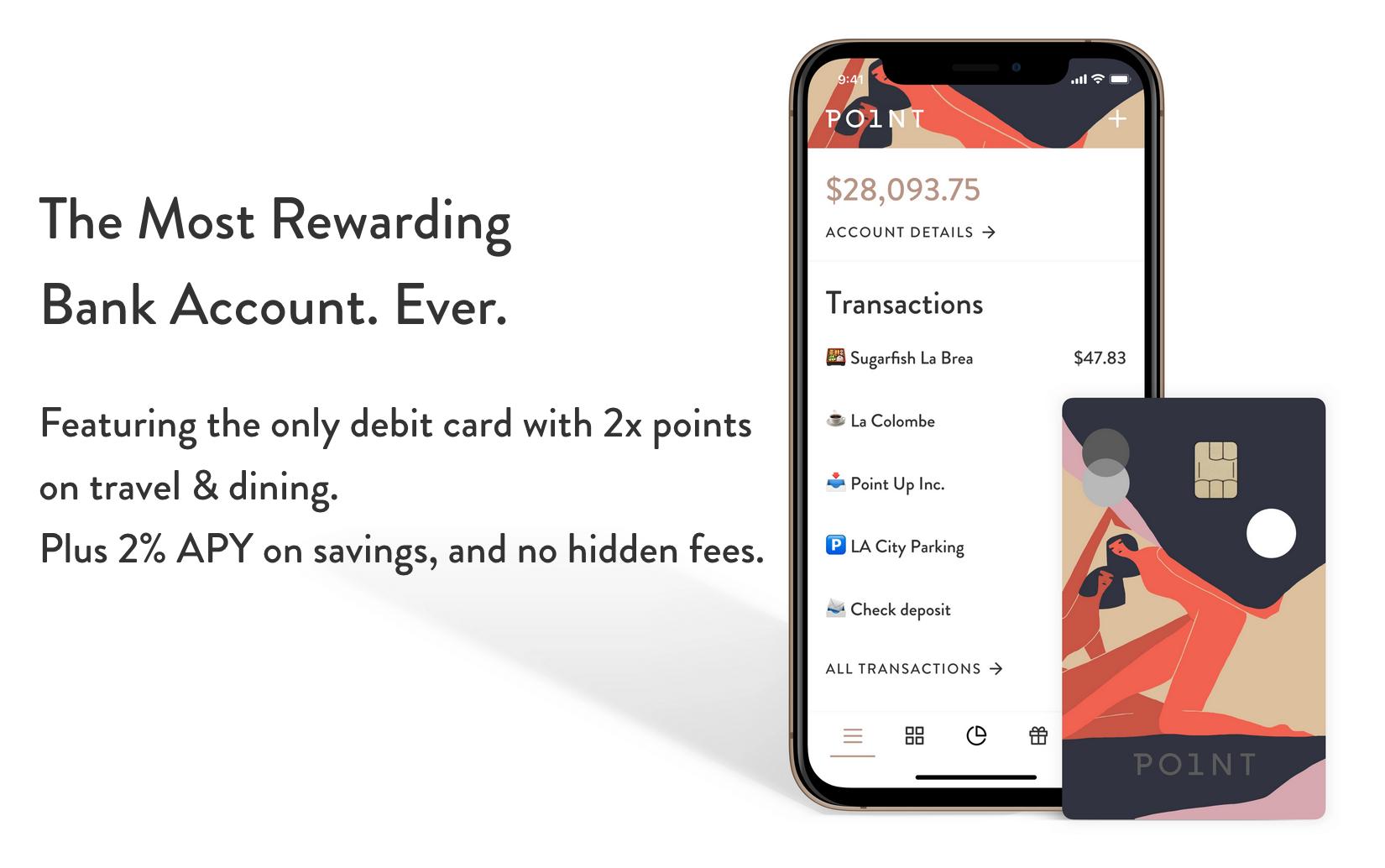 There are lots of companies in the credit card reward space, but Point is the only one I know that offers points with a debit card. Having a debit card with points/saving feels like the best of both worlds without the worry of overspending.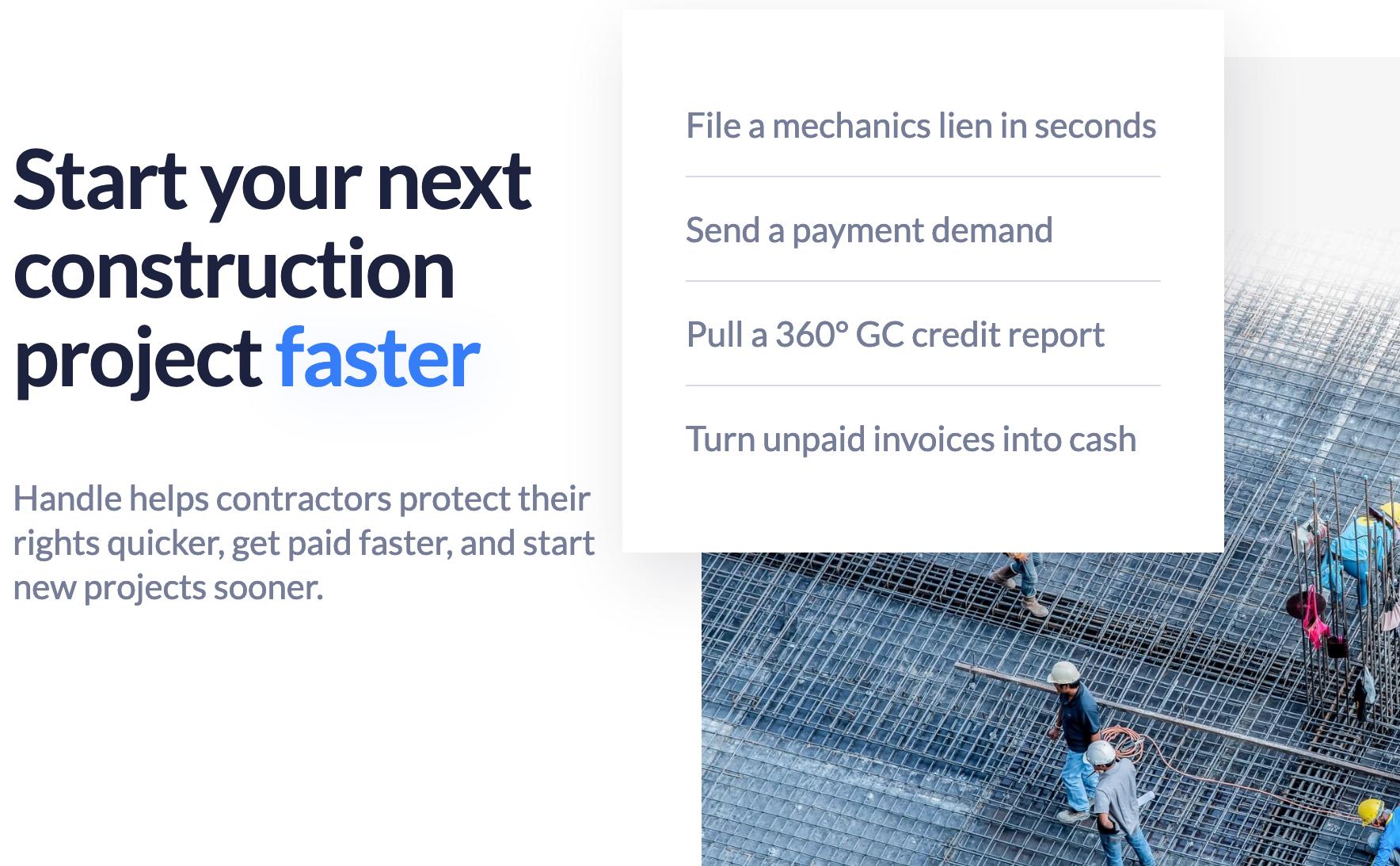 I've talked to a few people in construction and am surprised by how large deals are and how inefficient the process is, with dozens of contractors involved. Handle helps simplify working with contractors. Watching as more tech gets into construction.

Gerostate Alpha is working on a process with "capability to increase lifespan and healthspan not just by a few percent, but by orders of magnitude." Founders are 3 researchers who combined have over 60 years of relevant research experience. 🌕🚀

The cannabis supply chain is inefficient and not software native. Nabis is working to solve this by creating "a lightning-fast distribution network and software platform" in California. With the legalization coming, this could be very lucrative.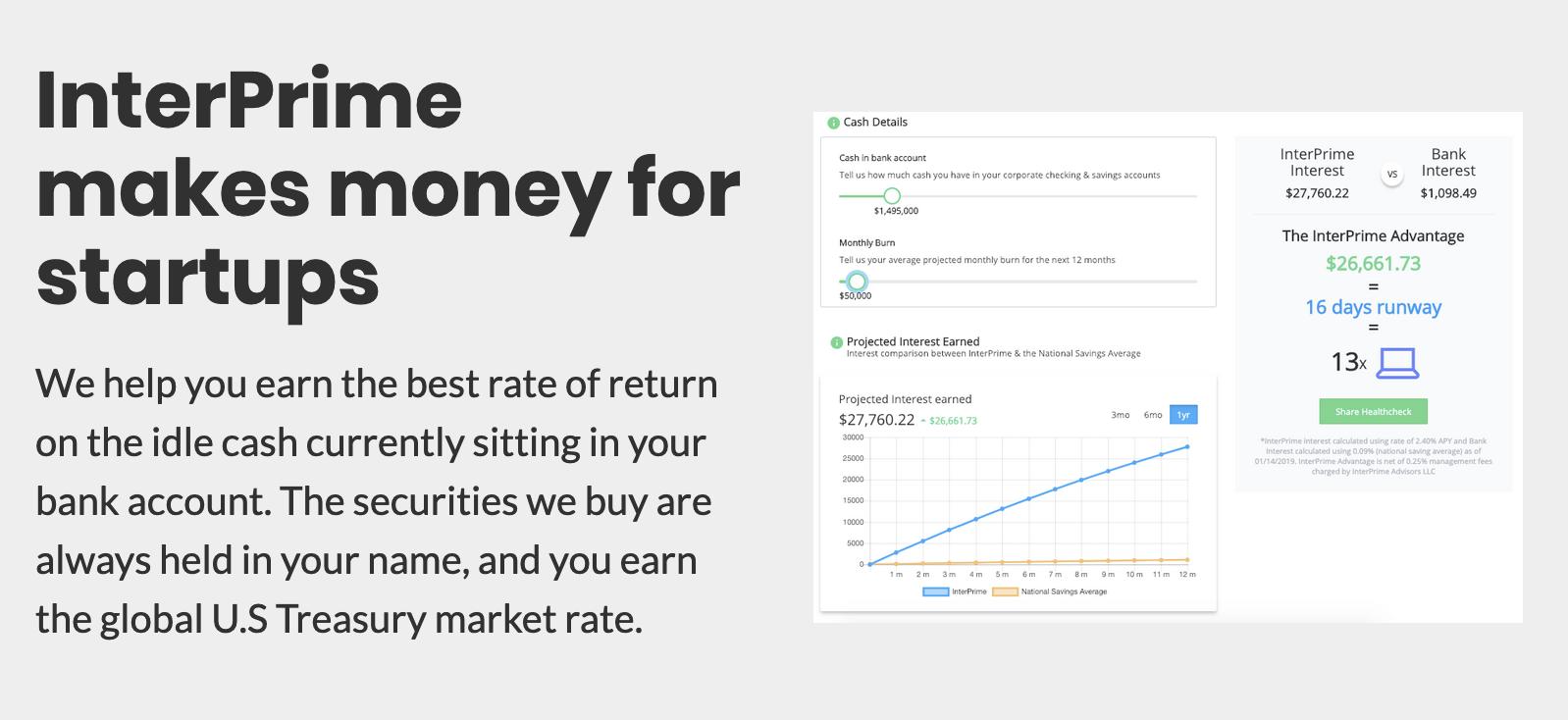 I'd bet most startup founders aren't experienced handling the millions of dollars they raise. Enter InterPrime. They are trying to help companies manage their cash on hand and invest it. Will be interesting to watch if this becomes standard overtime.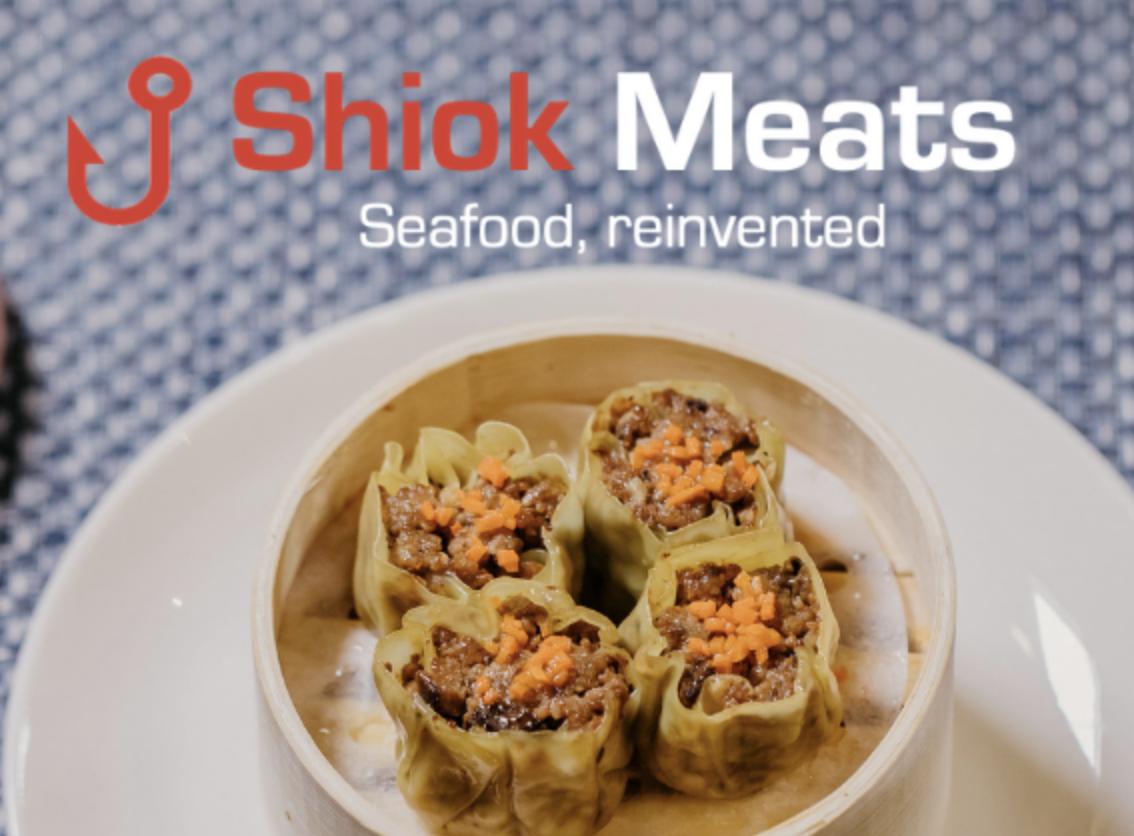 Shiok Meats is a growing cell-based shrimp, crab, and lobster in a bioreactor. Founded by a team of stem cell scientist, Shiok is working on creating an "environment-friendly seafood future." Will be interesting to watch given oceans are overfished.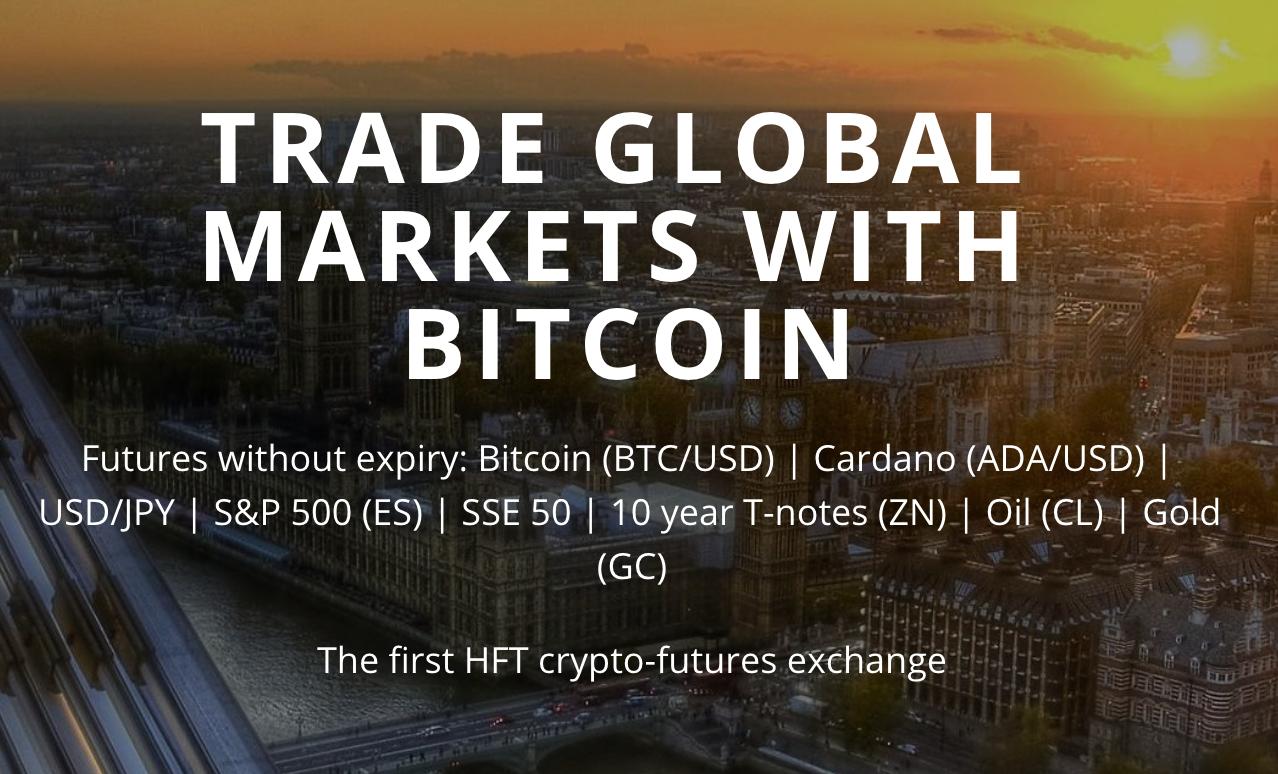 GlobeDX has created a crypto-futures exchange that is friendly to high-frequency trading. It will be interesting to see how they will fit into the futures exchange given that @dydxprotocol has been working on something similar in the ethereum space.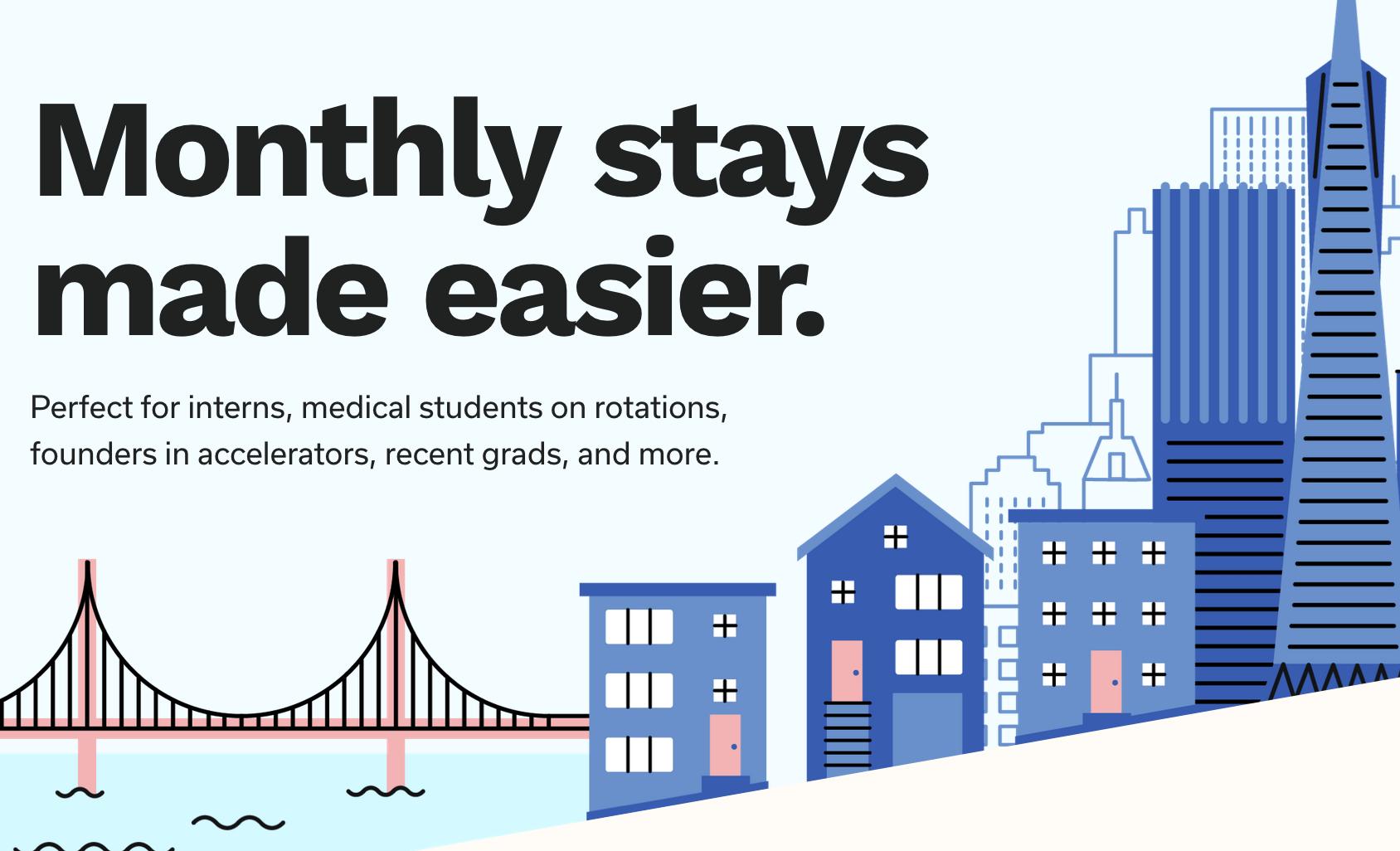 PadPiper is building a marketplace for monthly stays. While Craigslist works for longer stays, it's hard to find places for a few months, especially if you don't know anyone in the new city. Will be interesting to see how this fits in next to Airbnb.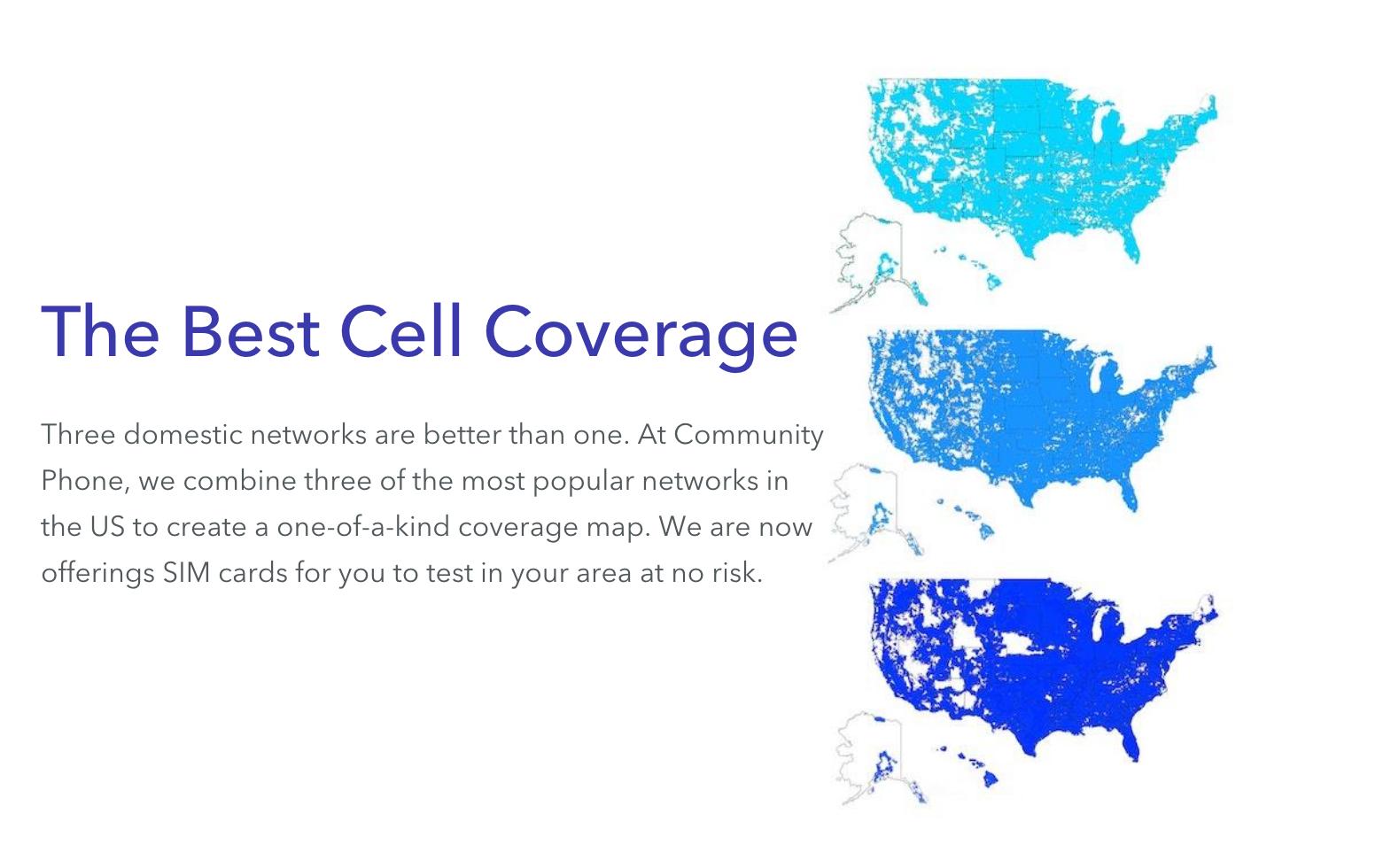 Community Phone is linking up three US networks to bring the best service with an unlimited plan for $50/month. Interested in watching what will happen over time as they grow and start to compete with the companies that supply their network.
Qwest lets people pay money to skip lines. People already pay bouncers at clubs to let the skip the line, so formalizing this seems like a logical. Will be interesting to see if this loses it's value once a significant number of people start to use it.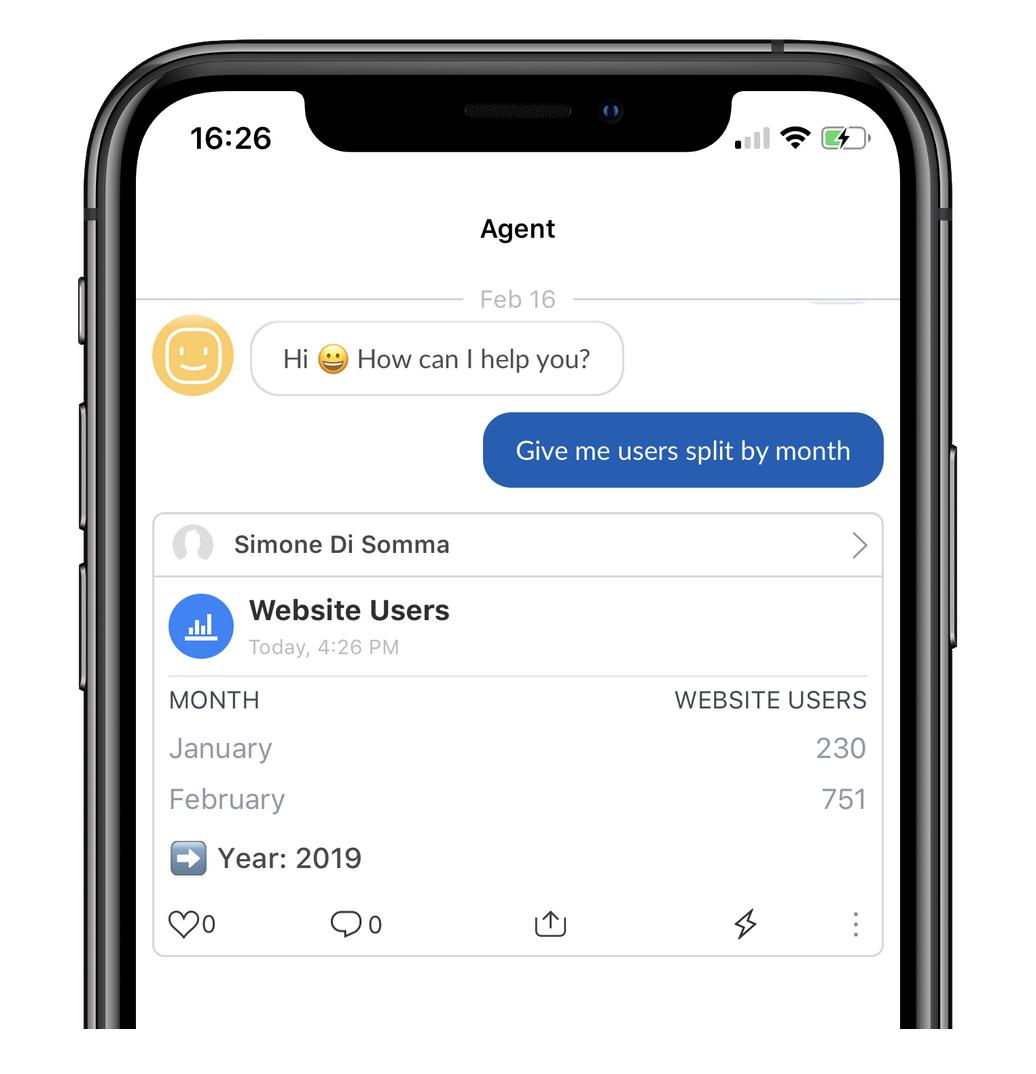 Many times, engineers are bottlenecks to insights that non-technical employees can make due to not knowing how to query databases. Askdata helps all employees discover insights with natural language. Interesting to see the limits of query complexity.

If you've ever worked at a large tech company, you've experienced short links that aren't real domains such as //work. Golinks is working to bring this to all organizations. Can see this being ubiquitous across companies in a few years.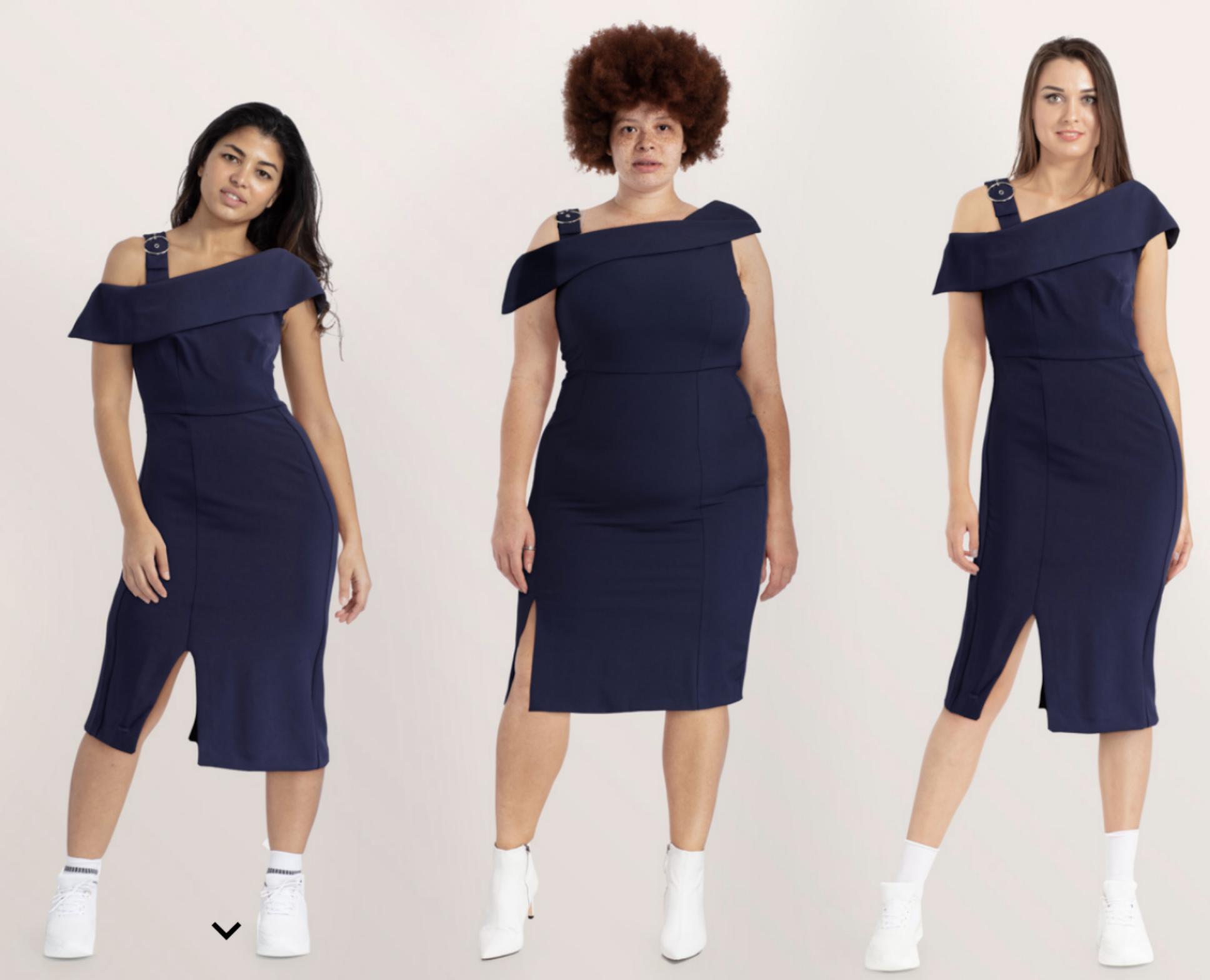 Allure Systems uses computer vision to map clothing onto models. Users can take pictures of their clothing, then map them onto a catalog of models with ease. This could quickly become the norm in online shopping, notably if users became the models.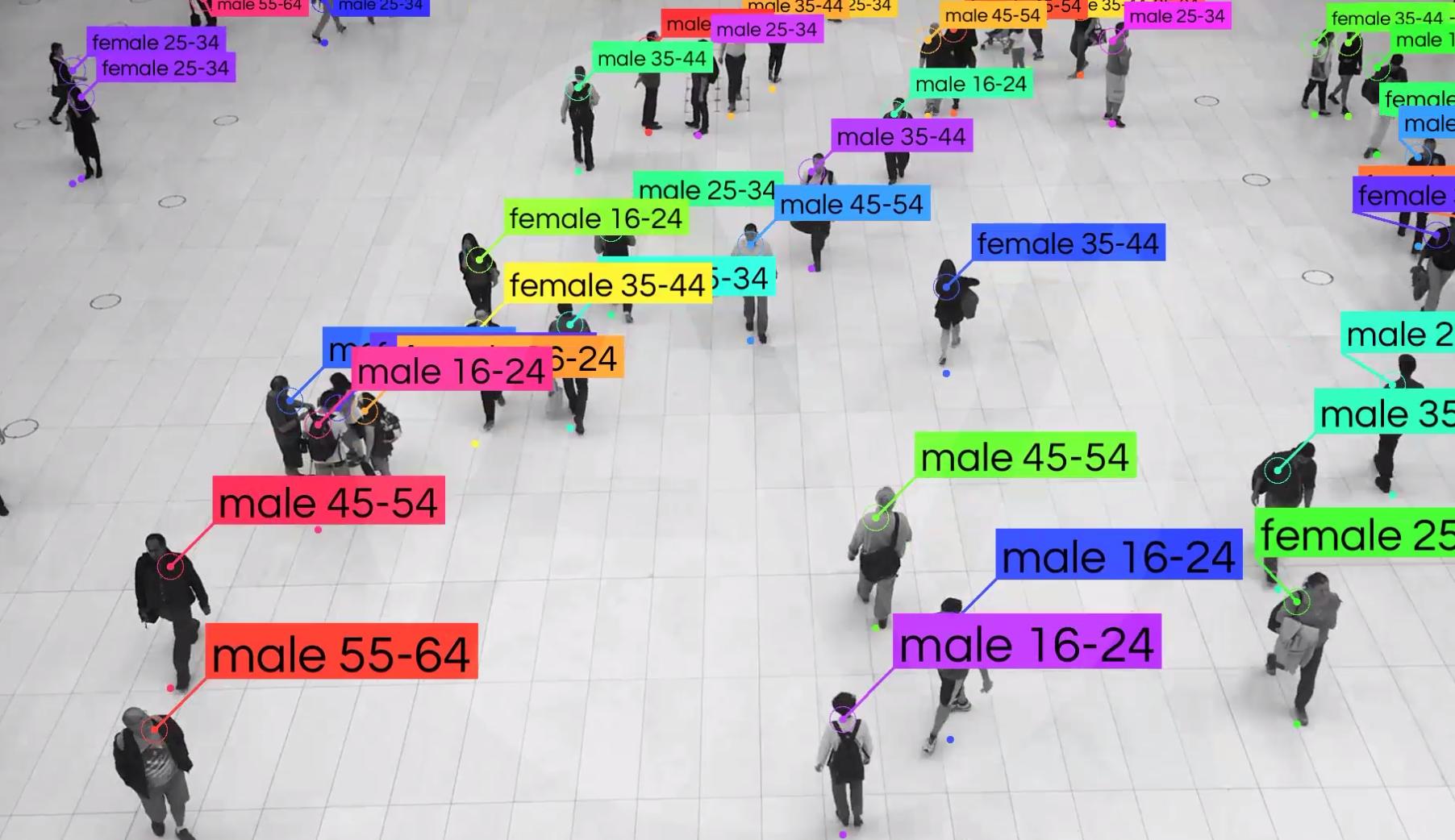 Aura Vision is making Google Analytics IRL. Using computer vision and ML, they can map user in real time, helping stores track habits like motivation, wait times, and user walking paths. Creepy but may help IRL stores compete against online.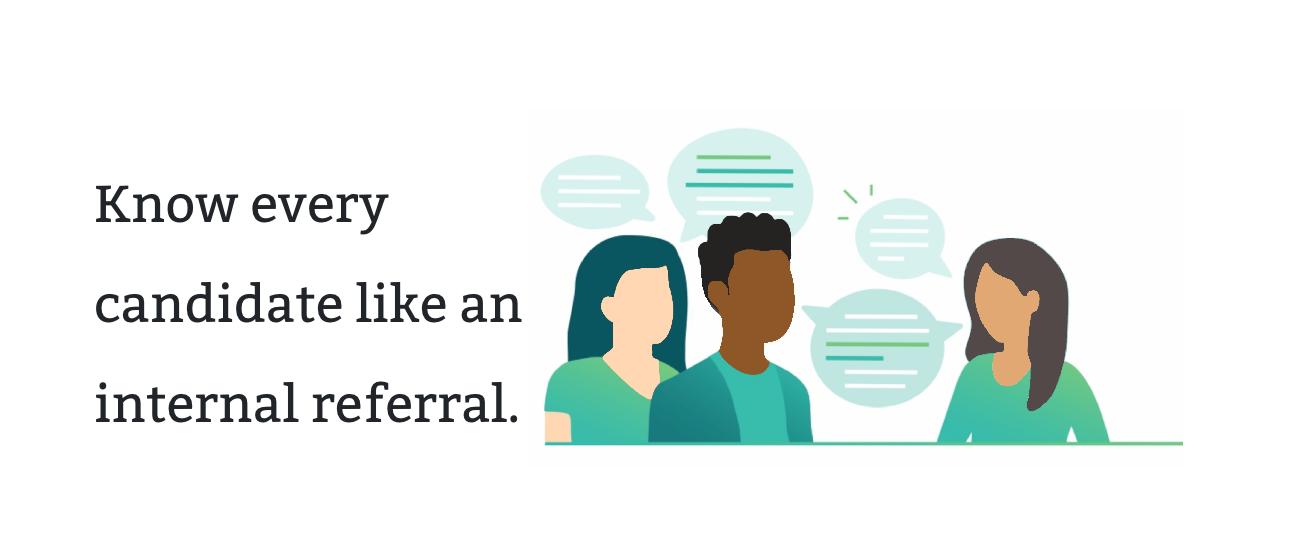 Searchlight is working on creating a database of referrals so that candidates and companies don't have to go through the trouble of sourcing referrals over and over. Interesting to watch given the network effect required to make this work.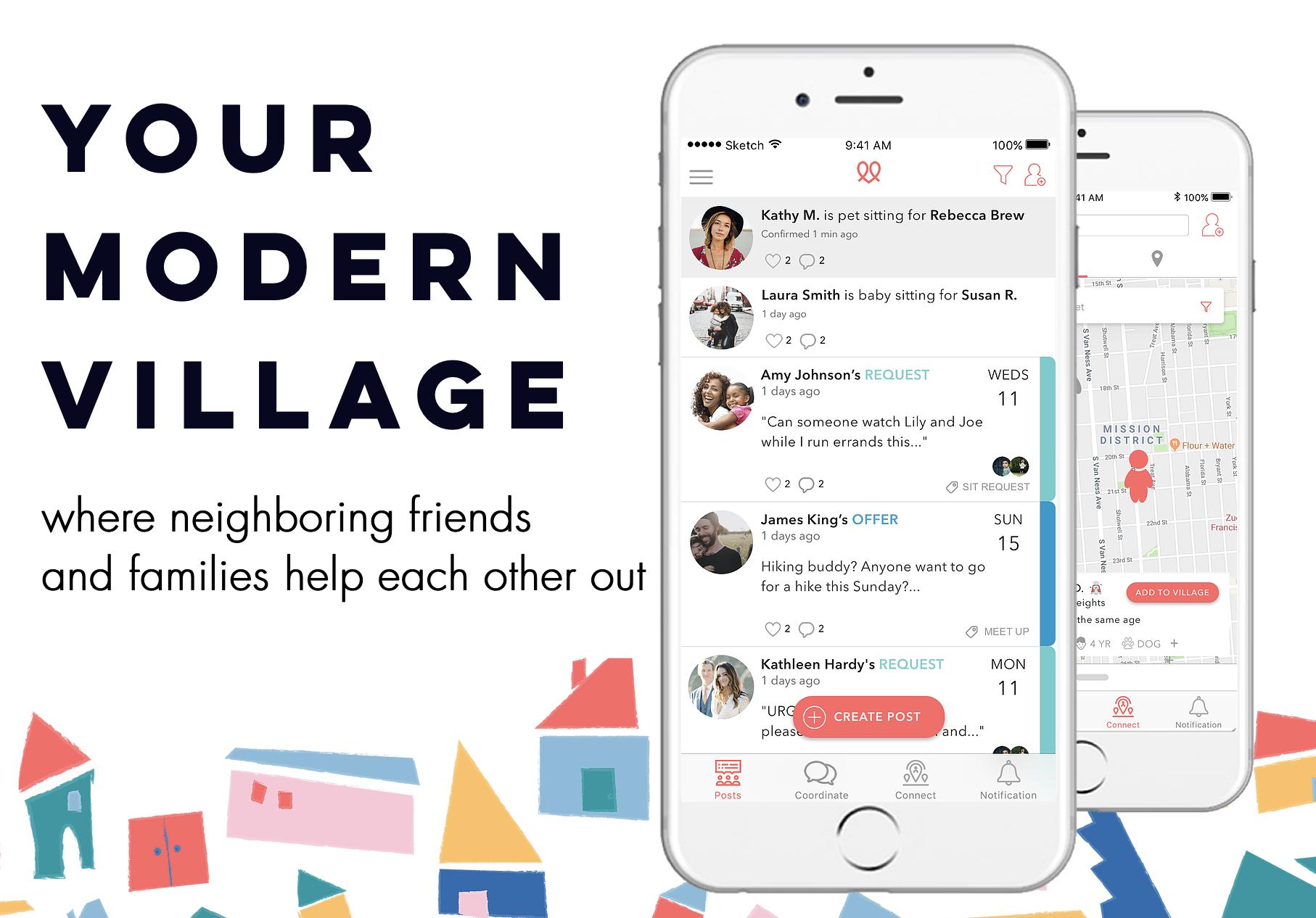 Allo is trying to foster community among neighbors to help each other out with babysitting and other small favors. Interesting to see a tool that is trying to bring together a service community without being focused on financial transactions.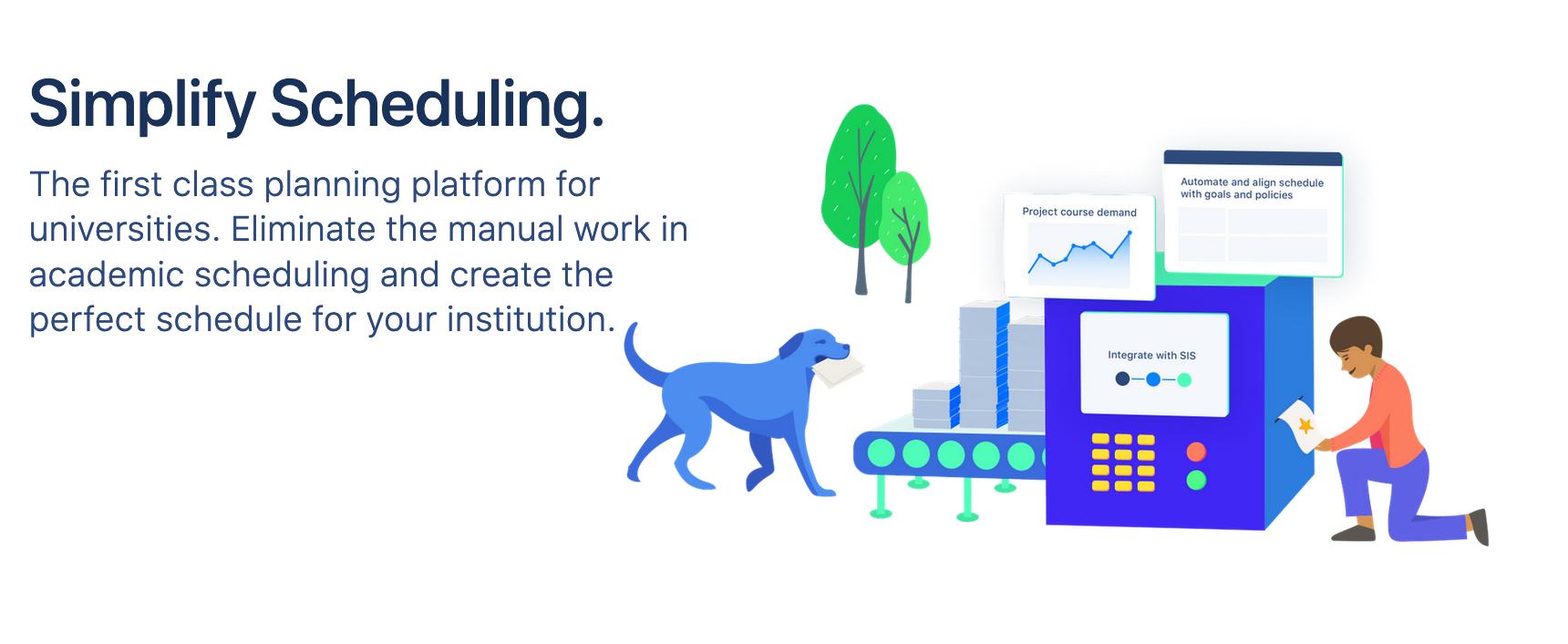 Coursedog is building tools to help universities do better class scheduling, room planning, & curriculum management. University are massive entities with many inefficiencies, so it's exciting to see a company tackling the administrative issues.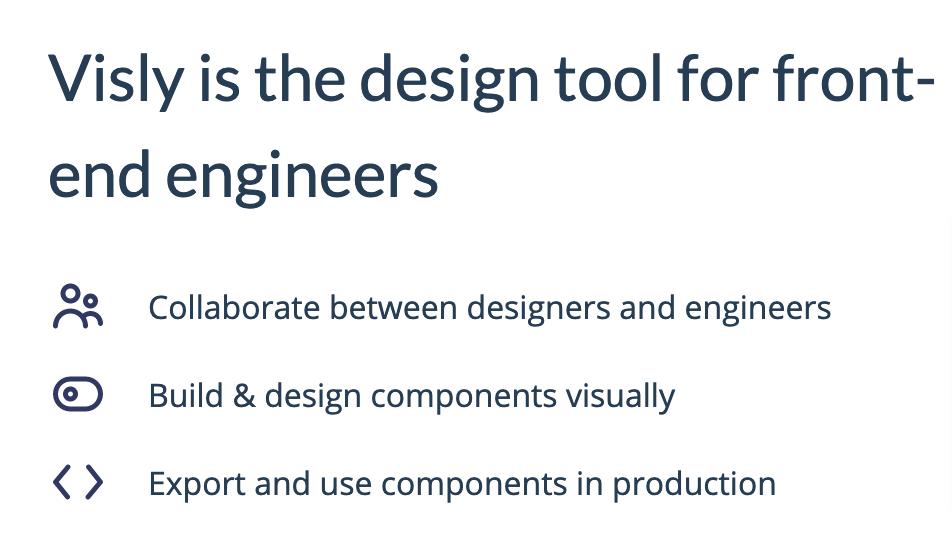 Visly is a cross-platform layout tool for frontend engineers built by a former @yogalayout engineer. I'm not 100% sure what is being created but am interested in following what they release given the open source work they've already published.

Switchboard is working on a suite of sensors for semi trucks, trying to help trucking companies manage their inventory of trucks more efficiently remote. Will be interesting to see how they transition overtime when trucks go autonomous.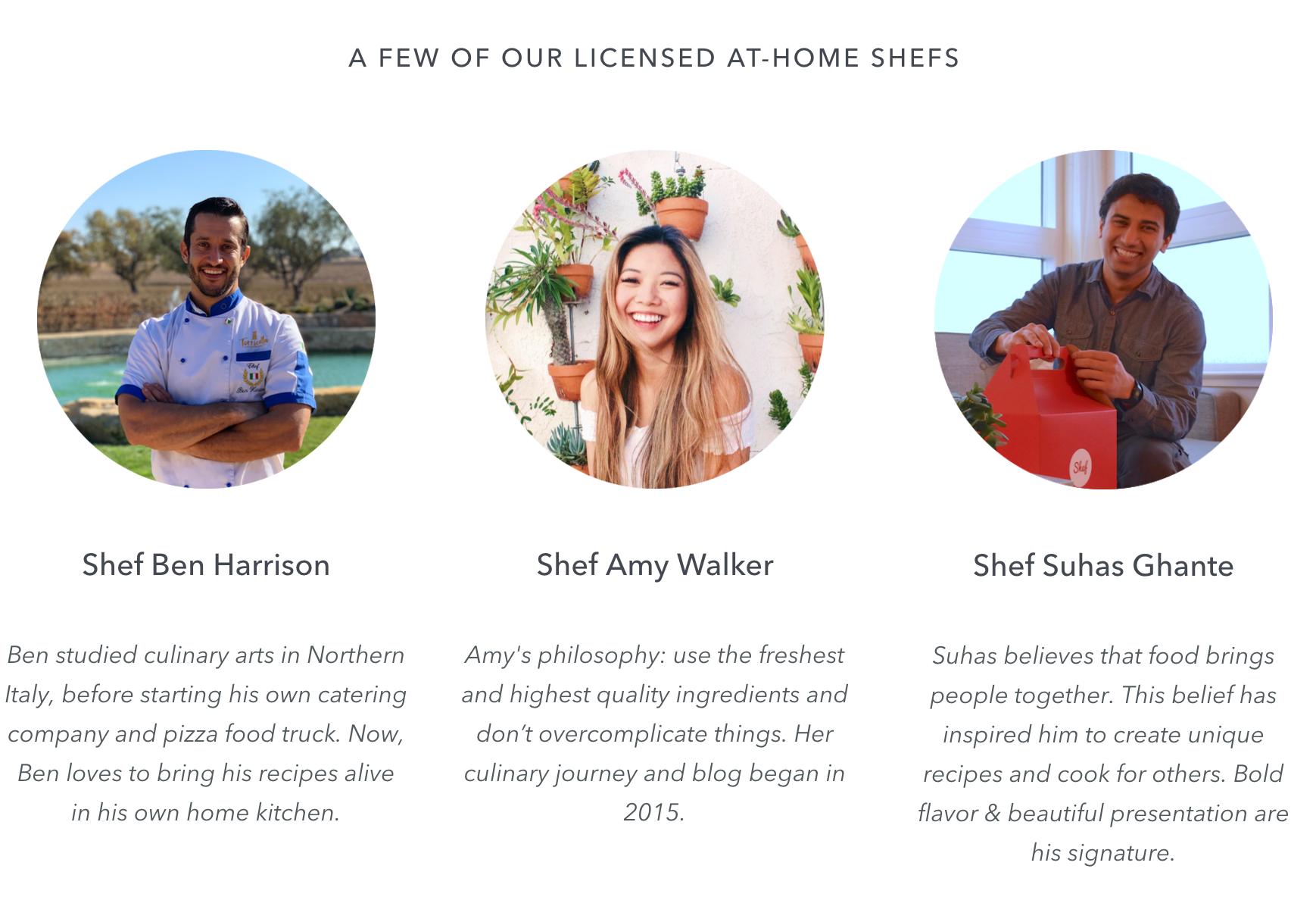 Shef (Airbnb for food) is bringing community "at-home" chef's meals to your table. Pay ~$7 for meals made by people in your neighborhood, not restaurants. For the price point, this seems like a great way to get cheap and healthy food delivered.
Final Notes
@ycombinator W19 demo day had 189 companies present, not 200+
Largest YC class & demo day was 2 days with 2 stages pitching
Many of these companies are very early on with some launching only days before demo day 45/45 final notes:
Some businesses seemed to compete with previous YC funded business
A surprising amount of cannabis companies
Mostly B2B companies
There were a few moon shots
Overall a very diverse set of ideas
Will be very exciting to follow them over time